You need about 3 min. to read this article.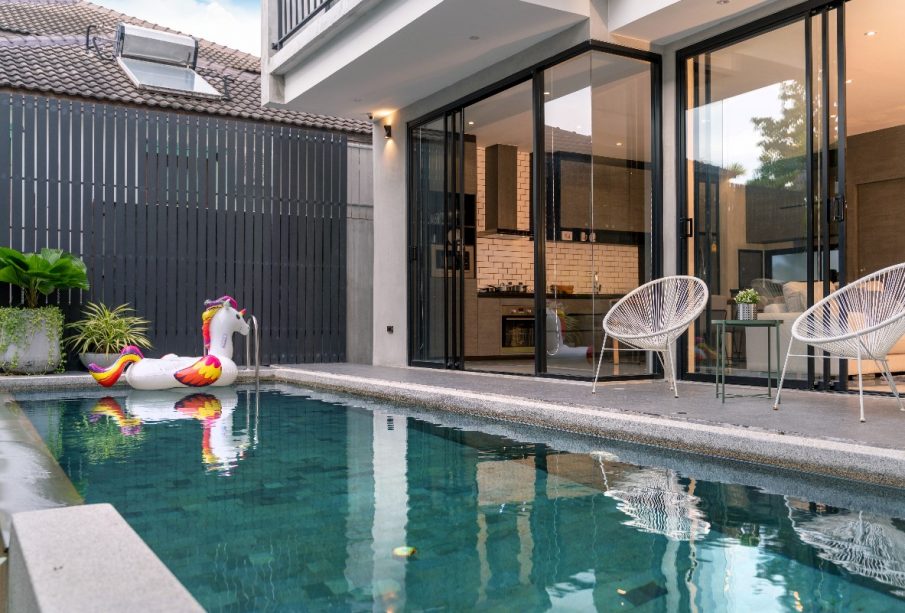 A spacious terrace is an ideal place to relax after a hard day at work and to have long conversations with friends and family. Recently it has become very fashionable to arrange terraces in the industrial style, which is extremely raw. How to arrange a terrace in this style? Check out our tips
Industrial terrace – first of all, a functional division of space
If we want to have a beautiful terrace with an industrial accent, we must first carefully design it. Managing the space in a skillful manner is one of the key features of modern interior design. Our terrace has to be designed in such a way as to fit a table with chairs, comfortable armchairs and accessories that will give it a unique atmosphere
What should I cover my terrace with?
The covering of the terrace is a very important issue. The best solution are concrete slabs, which are very rough and perfectly fit into the industrial style. Additionally, they are very durable and resistant to external factors. An alternative to concrete slabs can also be a natural or composite board, which will perfectly match the loft style
Fencing the terrace – what to make a balustrade?
The simplest solution will be ordinary metal railings without unnecessary decorations. However, remember that due to the relatively low cost, they are used in most terraces and do not fully reflect the climate of the loft style. However, there are still other solutions. One of them can be a segmented balustrade made of metal with geometric cutouts. Let's rather avoid combining metal with wood, but let's bet for example on transparent spans mounted on a metal frame.
Plant pots and greenery on the terrace
Greenery is an indispensable element of an industrial style terrace. It makes it much more pleasant to relax. Green plants that bloom all year round are a good choice. These can be cypresses, evergreen ivy, decorative grasses or miniature trees. Once you've chosen plants for your patio, you need to think about pots for them. Avoid clay or plastic pots. Wooden pots are the perfect industrial accent. Metal or concrete pots will also look great
Lighting and roofing on a loft terrace
Theloft terrace must also be properly illuminated and roofed. Solar lighting, which is powered by solar energy, will be great for the terrace – it will allow us to save money. They will work even where there is often shade, because they are usually equipped with a panel that can be set on the roof. A good idea are also lanterns, which give the terrace an unusual atmosphere
very often has the form of a wooden structure with a gentle slope. Sometimes transparent polycarbonate panels are used on it to ensure the availability of light. In some cases, builders opt for a retractable sail that covers at least part of the terrace area