How to decorate an apartment in an apartment building? Some inspirations
You need about 4 min. to read this article.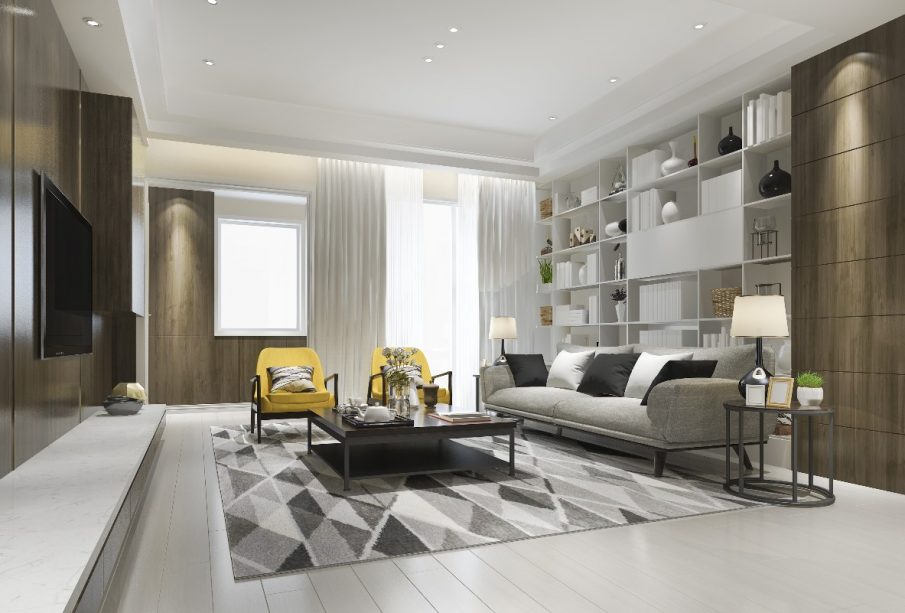 Lots of daylight, bright space, an open kitchen and stylish bathrooms. We give practical tips that you should use when arranging an apartment in an apartment building.
Advantages of living in an apartment block
Apartment buildings are blocks of apartments with modern aesthetics, which are characterized by an attractive location – close to the city center, but at the same time in the vicinity of green areas, stores, restaurants and public transport stops.
They also have numerous amenities, which significantly increase the comfort of living. These include expanded playgrounds, separate gardens or spacious terraces and balconies, as well as thick walls, floors and windows with increased thermal insulation.
Apartments in an apartment building are well designed, bright and spacious, moreover, their purchase is often cheaper in comparison with the overall cost of building a house and its finishing. There are definitely less maintenance costs.
>> See: Navy blue kitchen – arrangements that will inspire you!
Big windows, lots of light
As we've already mentioned, these apartments are full of daylight that comes through large windows, which definitely improves our mood and gives us energy
In the past, we could count on double-hung, narrow windows, possibly with balcony doors. Nowadays more and more often the windows occupy even the whole wall – usually they reach from the floor to the ceiling or not much lower. Such lighting is especially desirable in the case of living and dining rooms as well as bedrooms.
Remember at the same time that uncovered windows are the most effective and modern. It may turn out that hanging curtains and drapes will make our glazing completely lose their charm, additionally optically reducing the room.
If we already want to ensure our privacy or shield ourselves from the strong sun, then it is better to install blinds in the window frame. Currently there are many colors and finishes available on the market, so there will not be any problem with matching them to your interior.
Comfortable lounge area
Having a wall of windows, you can easily arrange a lounge area. Place there a comfortable armchair (hanging ones are fashionable), chaise longue or large cushions and plants.
As for the rest of the arrangement of this zone, you can set a comfortable sofa or opt for a modular sofa for free rearrangement and combination depending on your needs.
Nevertheless, let's also remember about good lighting, which will be useful on a cloudy day and in the evenings. A designer lamp or spots of light can beautifully complete the whole decor.
Open kitchen with island
Kitchens in apartment apartments are usually open to the living room, forming a single room with it . The kitchen area is separated by an island with a worktop, often combined with a dining table.
If there is a lot of wood and references to nature in the interior, then choose wooden worktops and light, stylized fronts of cabinets. On the other hand, above the island and the table, install a modern hood and lighting, preferably hanging lamps. It is also good to look for original chairs or hockers.
And in the bathroom – both a bathtub and a shower
Developers usually design apartments with two bathrooms. This is a very convenient solution, which also gives great arrangement possibilities. We recommend having a comfortable bathtub in one of them and a designer shower cabin, preferably a walk-in glass one, in the other.
Depending on the style in which we decorate the whole apartment, we can put large format tiles on the walls, original mosaic, wood-like tiles or tiles imitating marble.
However, we recommend warm color combinations to give the bathroom a pleasant character, ideal for relaxation.