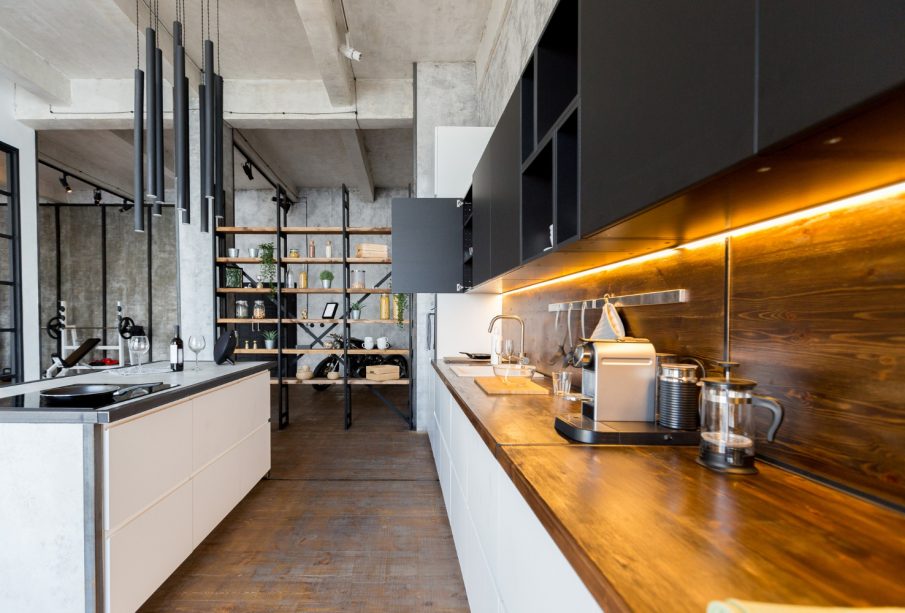 The concept of a modern kitchen changes with the new trends in interior design. While brown wood paneling used to be innovative, today a trend-driven kitchen is a bright, clean room with wooden cabinets as a stylish addition.
The latest trend points the finger at the kitchen sink area. The avant-garde solution of the season is to be the messy tiling in this area. What accessories will look best in a modern kitchen?
Kitchen glove, kitchen towel and kitchen pawpaw in the color of the year 2021
Buying these inexpensive accessories will make you feel that your interior is no stranger to the trends of this year. The colors of 2021 have been gray and yellow. Essential accessories in this color will liven up the kitchen and break the routine that all household members are used to
Clear jars and containers
Ideal for storing dry foods. They protect from clutter and over-purchasing. You can accurately see the amount of pasta, rice or cereal left in the container. Such dishes will perfectly blend into a bright and light kitchen
Soap and dishwashing liquid holders
Leaving liquid and soap in a not very stylish plastic bottle will not add charm to your kitchen. A set of containers with a pump is practical. This small item will blend in with the room and you'll definitely never go back to leaving liquids in store bottles again.
Potted flowers
This is another great kitchen accessory that fits in with current trends. With us spending more and more time at home, it's good to surround ourselves with nature as much as possible. Flowers in the kitchen do not have to stand only on the windowsill. They look great on shelves in the company of other, kitchen accessories. Not every flower will find itself in the kitchen reality. Choose Guinea sansvera, horsetail or pink hoja.
If you're not a fan of flowers in the kitchen, go for herbs! You'll always have fresh basil and thyme on hand, plus your kitchen will feel fresh!
Fresh flowers on the kitchen counter
Since you see them so often in restaurants, why not bring them into your kitchen? Fresh, fragrant cut flowers in the kitchen are a small addition that changes the whole face of the room.
>> See: Kitchen in black – inspirations
Wicker baskets for the kitchen island
They look insane and allow you to avoid eye-irritating disorder. Kitchen accessories that combine practical use and charm are the ones you need to focus on in 2021
Wooden planks
An ornament and an integral part of the kitchen at the same time. Beautiful, natural boards shouldn't be hidden away in cabinets! Let them delight your household and create a cohesive whole with your kitchen decor and style
Pepper and salt
Two spices without which a kitchen doesn't exist. Choose a color and design that doesn't conflict with the look of your kitchen. You may think that salt and pepper shakers are too small to add charm to your kitchen, but we assure you that this is just a misconception
Knives
An exposed, stylish set of knives will come in handy in any home. A knife can be as much a decoration in the kitchen as an element without which the kitchen does not exist
Images
Kitchen walls do not have to be empty! There are thousands of posters and paintings available on the market. We encourage you to bet on minimalism