Ceiling-hung armchair – installation, inspiration and tips
You need about 4 min. to read this article.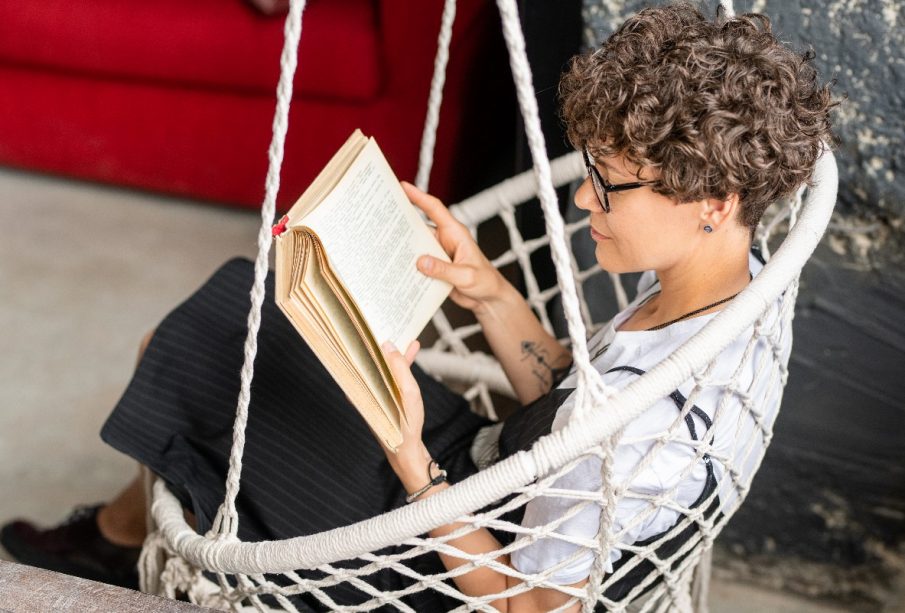 Suspended armchair is a more interesting version of the traditional seat, which also offers comfortable rest, while looking much more interesting. However, such a piece of furniture requires safe installation, which puts it in a worse position than traditional armchairs. In addition – does it actually look good in the interior?
Where will the suspension armchair work?
Regardless of the design, the hanging armchair is a piece of furniture ideal for modern interiors in various forms. An example is rattan armchair which perfectly suits boho interiors. We can also find a place for it in shabby chic interiors or even in soft loft style interiors
What gives a hanging armchair in interior?
First of all, it is a great variety, especially for a living room or bedroom, but it can be placed or installed even in a study. It is an energetic break from the typical living room decor. We appreciate such an armchair for the high level of comfort that is at our fingertips. It gives the opportunity to break away from everyday life for a while and rock in a comfortable position. It should be added that this is definitely fun not only for adults, but also for children
What is better: a chair suspended to the ceiling or on a frame?
The introduction of such furniture to the interior is carried out with the help of its attachment to the ceiling on a rope or chain, but also using an armchair on a frame. Which option is better? Certainly, fixing to the ceiling is very stylish and safe. With a solid rope or chain, you can use the furniture in any way you want. In the case of an armchair on a frame, we have the possibility of rearranging it freely in the interior. As a rule, it also takes up less space, so it works well in less spacious rooms. Of great importance is the way it is made and the stable frame, which ensures durability. In practice, however, an armchair on a rope or chain looks better in the interior
Rope or chain? How to fix it to the ceiling
The choice of fixing is aesthetic, but also practical. The chain is more durable. In any case, when installing it is recommended to use the elements intended for this purpose by the manufacturer, without arbitrary replacement
What are the difficulties of placing a suspended chair in the interior?
Apart from choosing a strong and stable structure, it is important to designate a sufficiently large space for the armchair in the room. It is especially important when children play on it. Such a piece of furniture must be away from walls and windows. It can also not be placed near glass doors. It is also best if it is at a safe distance from all other furniture
Hammock or cocoon?
Certainly, the spherical shapes of suspended armchairs are appreciated for their versatility. The rattan cocoon can be matched with many styles and this is its undoubted advantage. It looks great in the middle of the room, giving it a more cozy character. However, a large amount of space is then indispensable. A room hammock, in a fringed version perfect for boho styling, will take up less space. It can also be placed a little more on the periphery of the room.
Installation of an armchair suspended to the ceiling step by step
You need to complete the necessary equipment and mounting components. Impact drill (especially in the case of a concrete ceiling) and drill bits 6 and 15 mm. In addition, it is recommended to use the assembly elements included in the kit. It should include: a self-locking dowel (e.g. 14 mm), two snap hooks, a dedicated chain or rope, a chemical anchor. The assembly follows the diagram:
Finding a good location.
Mark the place to be drilled with a pencil and drill a 6 mm hole to a depth of 90 mm (preferably at a slight angle).
Widen the hole with a 15 mm drill bit.
Mount the dowel, twisting it very tightly.
Attach the snap hooks and install the chain/rope.
Test the strength (preferably by putting the weight of two people on it at the same time).
How much does a suspension chair cost?
Definitely the cheapest are hammocks, which depending on the design can be bought for 200-500 PLN. We will pay a similar amount for a model designed for a child's room. A similar amount will be paid for a model designed for a child's room. 1000 PLN you have to pay for a chair suspended to the ceiling. The most expensive models are those on a frame, which are valued at 1000 – 3000 zł