How to decorate a wooden house?
You need about 4 min. to read this article.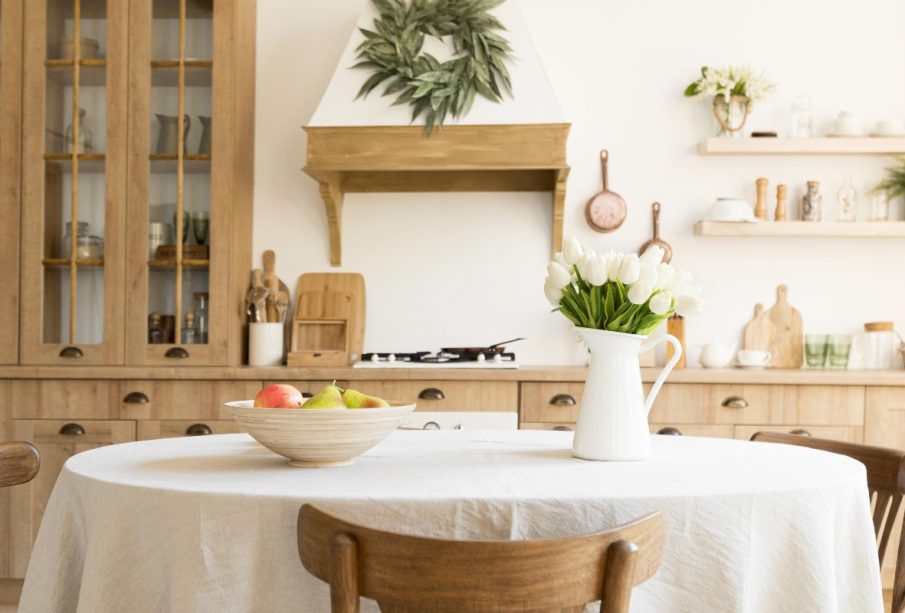 Wooden decor is crucial in creating unique rooms, giving the interior a rustic or classic feel. It adds warmth and softens the contrast of colors in the home.
Over the years, wood has become one of the natural building materials. It can be used in many ways: from making elegant light fixtures to beautiful decorative accessories to stylish furniture. Modern trends in interior design make your home closer to nature.
Climate interior in a rustic style
The key to a modern rustic space is an open floor plan, elegant furniture and natural architectural elements. Paint the walls white or cover them with wood or stone. Light shades will optically enlarge the interior. If you want to keep the character and original architectural detail, boast a stone kitchen countertop. You can also add ceiling beams to the decor. Choose furniture in a neutral shade. Include linen pillows, jute and leather to bring in a unique vibe.
Modern rustic style features a clean, contemporary aesthetic balanced with soft, natural textures. Check out what to look for when arranging your interiors.
Wooden beams
This is a great way to add a rustic element to your home. They look elegant and stylish. They work best in the kitchen or living room, where they will catch the eye. They blend beautifully with a fieldstone peninsula and solid wood cabinets
Wooden beams are an enviable architectural detail that brings a rich, rustic vibe. They add a bit of necessary roughness to balance the clean lines and polished finishes
What kind of lighting will work best?
Highlight different aspects of a room by installing track lighting or track systems on the walls, ceiling or exposed beams. Small directional lighting creates interest and beautifully showcases the qualities of a room. Track systems are very versatile and can bend at corners. They come in a variety of shapes, so you're sure to find something you like. Some models have a warm brown finish – perfect for a wooden house.
Stay neutral
Neutrality doesn't have to be boring. Opt for white and cream to give natural elements more prominence. This will make the space feel clean and bright, which is totally modern. An earthy color palette – a weave of terracotta, sandstone and olive – will also work perfectly. And if in doubt, opt for monochromatic decor. Gray is a great primary color, it perfectly combines elegance with casualness
White walls can provide a contrasting backdrop for vintage furniture and accessories that stand out in a rustic style. Remember, however, that too much white makes the interior appear sterile. Add a splash of color with a wall mural or a wooden wall and painted wooden chairs. This will make the space more inviting and interesting

When using neutral tones around neutral pieces, make sure they vary in color. Allow them to enhance each other. See if they contrast with each other enough. Jewel tones look great in a rustic home. They add a bold, bright and unexpected touch, as well as a sense of luxury. Think pinks, reds, purples, greens and blues – the deeper the shade, the better.
Elegant and durable textiles
Choose comfortable fabrics in warm tones to make rustic decor even more inviting. Think cozy blankets, checked fabrics, and chunky knits. They'll help you relax and unwind. If you like style and comfort, opt for a faux fur bedspread and put it on the sofa. A patterned, woven rug should also appeal to you. Make sure it matches the room and adds a splash of color. Rugs are great if you have a wood floor and need some warmth on colder days. Plus, a durable rug will protect your floor from damage