You need about 4 min. to read this article.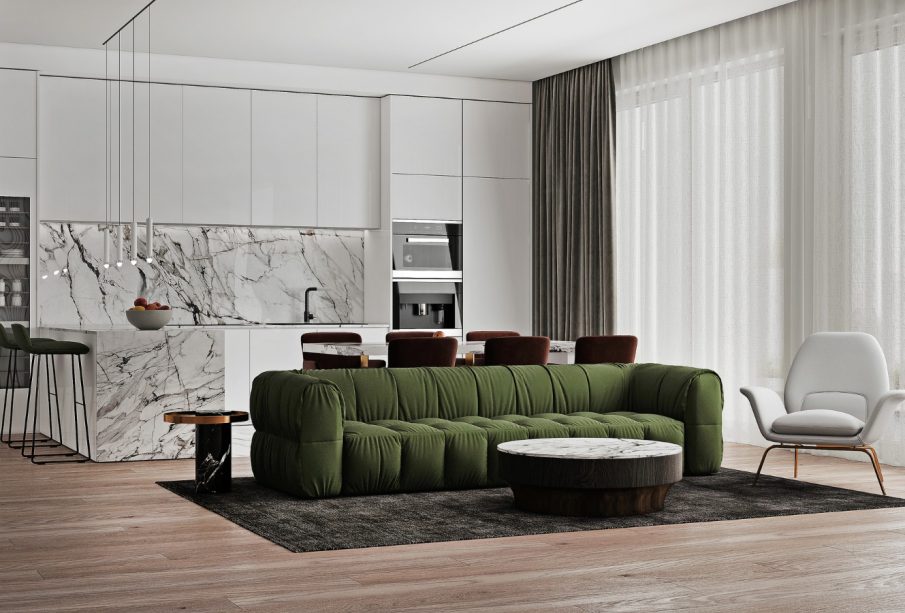 A fire shooting in the fireplace, over which hangs a deer head, next to a comfortable sofa and rocking chair… We have seen similar images in movies and TV series thousands of times. American style, because today we are talking about it, is not homogeneous, it exists in several varieties, but some features distinguish it. We present 6 that best characterize it.
Extravagance
In the American style simply everything must be large and in great quantity. In addition to the extensive layout of rooms, the furniture should also be large. It is worth noting that Americans choose larger sizes compared to European standards.Therefore, in this style there must be a king-size bed, a refrigerator with double doors, the same goes for closets or sofas. In bathrooms, large basins with a huge mirror and marble countertops are preferred. In the living room there can't be only one armchair, but several and with pouffes, and the kitchen needs thousands of cabinets and household appliances.
>> See also: Wall decorations in New York style
Spaciousness
Interiors decorated in this style are definitely characterized by this. Houses in the USA have open spaces, thanks to which they seem bigger and full of light. Usually the living rooms are connected to the kitchen, which houses a vast island (usually with a marble or granite countertop), and the number of bedrooms and bathrooms corresponds to the number of household members, never forgetting one extra for guests.
Brightness and wood
Brightness is usually exhibited through bright wall colors contrasted with dark colored furniture, usually wood. Bedrooms often feature a window with a wide window sill, which is used as extra seating. In a typical country style, you will find wooden floors (and more), animal heads on the walls, large chandeliers and wall paneling. Then there's a rustic coffee table, a leather rug, furry imitation cushions and a patchwork blanket on a rocking chair. Sound familiar?
American Style Decorating
American style is all about the coziness of its interior. It tries to warm it up through brightness, wooden elements, but also numerous accessories. In the bedroom on the bed there is an obligatory bedspread, patchwork blankets and many pillows. The same applies to the sofa (upholstered) in the living room, plus a stylish carpet and a fireplace with a cheerfully crackling fire.
The interior design can not lack decorative elements, such as vases with flowers, bowls. Striped patterns, checkered or floral motifs are often used, and in some states rustic elements such as leather are also welcome, in addition, colorful movie posters or simply plants. From lamps, rather massive chandeliers are chosen, sometimes also traditional striped wallpaper or stylish wall paneling. All this makes the American home as elegant as it is stylish.
Exclusivity
Luxury is what American design is all about – it manifests itself in the quality of the materials used, unusual shapes and original accessories. Especially in the south of the United States we will have to deal with more wooden elements, in warmer regions there are floor tiles. In New York many apartments are arranged in a glamorous style, but also industrial, very characteristic is stucco in white shades. Due to the limited space, multifunctional furniture appears.
Open layout of rooms
Describing the American style, one often refers to the layout of rooms typical for houses located in the USA, which differs greatly from the layout we are accustomed to in Poland. Passages between the living room, dining room and kitchen are usually open, corridors are rarely inserted (unless on the first floor, to the bedrooms of household members).
Hallways are also uncommon – we usually enter the dining room or the living room right away. Most bathrooms are directly connected to the bedroom. Many functional smaller rooms appear, such as a closet alcove in the bedroom, a pantry next to the kitchen, and others.
Not only rocking chair and patchwork blankets
As you can see above, American style is not only wood, rocking chair and patchwork blankets. It is also the brightness of the interior, unusual layout of rooms or extravagance. It is worth modeling on this style and use some solutions in your own home.