Linear lighting for the home
You need about 4 min. to read this article.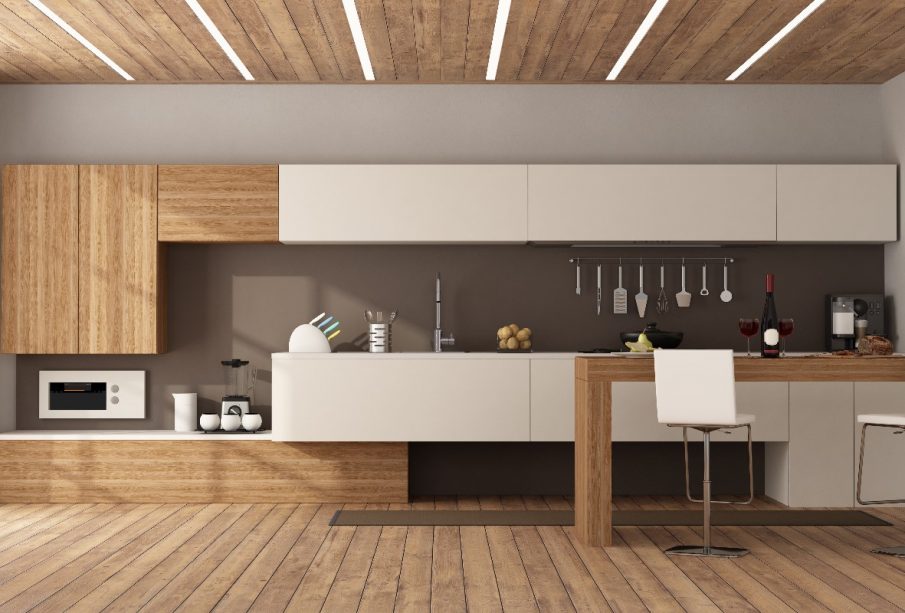 Linear lighting is becoming increasingly popular due to its flexibility, excellent performance and aesthetic value. You can install them on almost any type of ceiling.
What is linear lighting?
Linear lighting diffuses light over a narrower area than traditional fixtures. It is usually long and is installed on the ceiling or wall. It offers a wide range of color temperatures to suit the lighting conditions. Thanks to it you will bring the right atmosphere to the interior. It is perfect both at home and in stores, warehouses or offices.

It can be recessed, surface mounted or pendant. Many products offer IP20 protection level,but there are also models offering IP65. The latter are ideal for kitchens and bathrooms. The presented luminaires vary in size. They can be large enough to illuminate a room or small enough to serve as mood or task lighting.
You can adjust the LED linear lighting from 0.3m to as much as 4m, according to the requirements of your project. It provides a great deal of flexibility, giving you freedom when it comes to interior design
Why is it worth installing LEDs?
LED (light emitting diode)is a highly efficient and durable light source. It uses a semiconductor to convert electrical energy into light. An LED fixture consists of multiple light-emitting diodes housed in a long, narrow housing. This simple concept has revolutionized the lighting industry.
LEDs are the latest and most exciting technological advancement in the lighting industry. They work differently than traditional incandescent bulbs. They provide an extremely long life (up to 60,000 hours), dramatically lower energy consumption (by 90%), lower maintenance costs and greater safety

Unlike neon bulbs, they are made of non-toxic materials, so they do not pose a threat to the environment. In addition, they are recyclable. They are available in different colors. Red, amber and blue models are very popular


Energy-saving and fashionable LED lighting
The new fluorescent lights use 28 watts rather than 32 watts, but provide the same amount of light. Alternatively, you can install energy-efficient lighting that uses the same power but provides more lumens per watt.

If you have a larger budget, it's worth switching straight to LEDs

They use far less energy and last much longer than incandescent lighting. A mix of red, blue, and green LEDs are used to produce white light. They emit light in a specific direction, reducing the need for reflectors and diffusers, so they are ideal for recessed downlights and task lighting. Importantly, they emit very little heat

The rapid development of LED technology is leading to more products and better manufacturing efficiencies, resulting in lower prices. You can easily install recessed fixtures in your kitchen, hallway and bathroom
Linear lighting is stylish and energy efficient, which is why it is growing in popularity. They offer different light colors: cold, warm and neutral. Thanks to that you can adjust it to your needs. The proposed lighting will bring a unique atmosphere to the interior, while highlighting all its advantages.


Elegant and practical LED strips
You can install LED strips in the ceiling trims in any part of the house. It's an inexpensive and convenient way to enhance your ceiling and highlight architectural details. Try using them to:

add subtle, modern accent lighting,

create a cosy atmosphere in the hallway,

bring the right atmosphere to a bedroom or bathroom,

highlight the top of kitchen cabinets,

highlight decorative ceiling details in the dining room or living room.
You can also addLED strips to your stairs, whether under the banister or under the tread. Not only do they look elegant, but they also make it easier to navigate the stairs at night without waking up the rest of the household