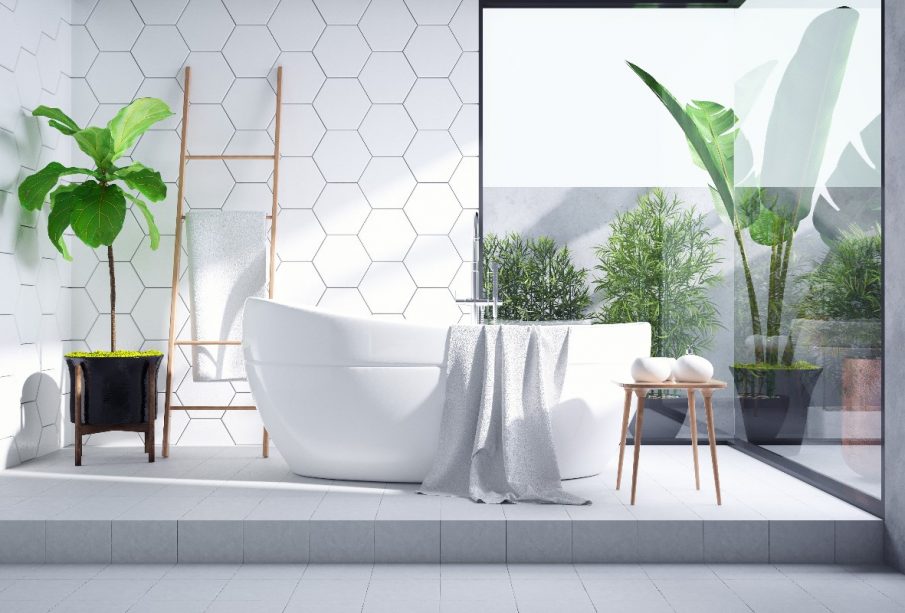 Industrial style means raw brick, metal and glass. Bathroom in this style is spacious, in muted colors and extremely stylish. The main role in the bathroom in the loft style is often played by the bathtub. Here are five suggestions of interesting arrangements of the bathtub in the industrial style
How to make the bathtub fit into the loft bathroom decor?
In an industrial bathroom, columns, ceiling beams and installations are exposed. The room is spacious, high and gives the impression of openness. It takes some courage to decide on such a style in the apartment, which draws inspiration from abandoned factories
When designing a loft-style bathroom, remember about minimalism – the fewer additions, the better. This is a style in which strict forms prevail. Industrial style bathrooms look best in black and white colors. Below, you will find several proposals for arranging a bathtub in an industrial style bathroom.
Free-standing cast iron bathtub on legs
Cast iron bathtubs used to be very fashionable. Although they had their disadvantages (they were very heavy), they undoubtedly perfectly reflected the industrial style. Their big advantage was durability. Apart from the elegantly profiled surface, the bathtub legs were very important. Sometimes they were geometrically cut pieces of metal, other times decorative objects. Nowadays we can find cast-iron free-standing bathtubs with "lion's feet", but these are more suitable for palatial interiors. In bathrooms with an industrial style, models with a delicately profiled body with straight legs made of pieces of flat bar will work better. If you really want decorative legs, choose white or black ones. A good idea will be a two-colored bathtub – white inside and black outside. If we do not want to spend a lot of money on it, we can restore an old bathtub.
Free-standing bathtub – modern minimalism
A free-standing bathtub in a loft bathroom can become a modern, minimalist element of the interior design. Such a bathtub does not take up much space, so it is perfect for small bathrooms. Such a bathtub has streamlined shapes and is devoid of ornaments. On a grey, concrete floor, it is the bathtub that becomes the most important piece of equipment, which attracts attention
Unusual free-standing bathtub
For a loft bathroom, you can choose a free-standing bathtub with an unusual shape. Interesting models with egg-shaped, round or irregular edges are available in stores. Around the bathtub, we can lay wood-like tiles or waterproof panels – the second solution, however, should be consulted with a specialist
Bathtub encased in wood-effect tiles
Although wood in the bathroom has both supporters and opponents, it is worth using it in industrial-style bathrooms. For this purpose, wood-like tiles will be perfect, which we can use only around the bathtub.
Bathtub encased in brick
Another material that is characteristic for loft interiors is brick, which will be perfect for enclosing a bathtub. If the brick is dark, it is worth that the walls of the bathroom are white – this will create an interesting contrast