You need about 4 min. to read this article.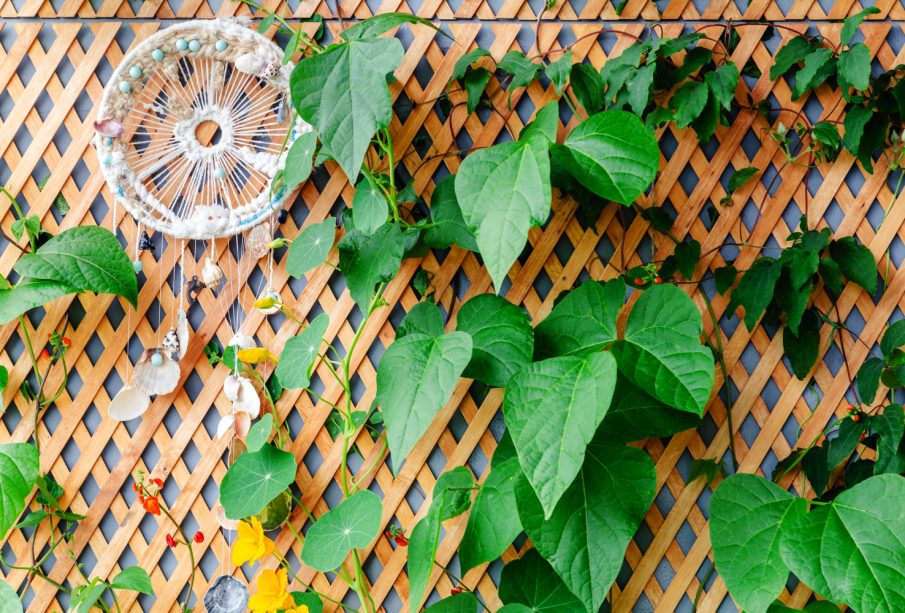 A great place to relax near nature is your own home space. A unique atmosphere on the balcony will help provide accessories in boho style. How to decorate it to achieve this effect?
Boho style brings only pleasant and carefree associations, which is why it fits so well to the home and is often used in arrangements. Its main determinant is primarily naturalness. It applies both to the chosen color palette, as well as selected materials. Among them can be, for example, wood, stone, dry grass, wicker or wool
Complement this type of decor will also be ethnic patterns and live plants. Decorating a balcony in boho style, you can allow yourself a lot of freedom and creativity.
>> See also: Bamboo lamp – a hit in boho style
Make yourself comfortable
A key element of a balcony, where we want to spend a lot of time and host loved ones, is furniture. Of course, the first choice here are those made of natural materials. A wooden or woven rattan set, consisting of chairs and a table, will work best.
A very fashionable and impressive addition to a balcony is now a cocoon-shaped armchair. Those, however, who do not like the feeling of rocking, may get its more standard, standing version. In both cases, the natural braided material complemented by comfortable, soft cushions will provide not only aesthetics of the space, but above all comfort and pleasure during the long hours of summer relaxation.
Do it yourself
With the boho style is also associated with the idea of caring for the environment. For this reason, a common solution is to make your own furniture. A good idea is to use wooden pallets or various types of crates for this purpose. You can also give new life to used furniture and enjoy it again after restoring it.
All these treatments add a unique character to your home space, and the process of creating furniture by yourself guarantees a lot of satisfaction. DIY furniture is ecological and practical. You can also save money, as they are usually a cheaper option than their store-bought counterparts.
Choose your accessories
The right accessories on your balcony can go a long way in accentuating your boho style, and in many cases, really just create it.
Essential furnishings are definitely textiles. Both cushions used for sitting and their small, decorative versions add a pleasant, cozy atmosphere to the space. It is best if they are maintained in light, warm colors. Cushions with a very fashionable and stylish macramé finish are also perfect. Another important addition are delicate bedspreads and blankets, which complement the arrangement.
A rug can also add a touch of boho style to a balcony. For a natural look, use round jute rugs, for example, or woven ones with different types of strings. Rugs with ethnic patterns, often with decorative fringing at the edges, are very popular both indoors and outdoors. Their additional advantage will be a pleasant to the touch fabric.
To provide the right atmosphere, lighting cannot be overlooked. Warm hanging lamps, lanterns scattered around and traditional wax candles on the table will help make summer evenings even more blissful and enjoyable.
Don't forget the plants
A boho style balcony must include plants. In addition to live flowers, you should opt for various types of green plants. The balcony is also a place where you can create a small garden or sow your favorite herbs. The latter will not only contribute to the beautification of the space, but also provide a pleasant smell. For the same reason you can plant, for example, heather.
The whole will be completed by original pots. They can be made of stone, for example. But for a lighter effect, those in the form of wicker baskets will work better. For amateurs of gardening we can recommend wooden boxes.