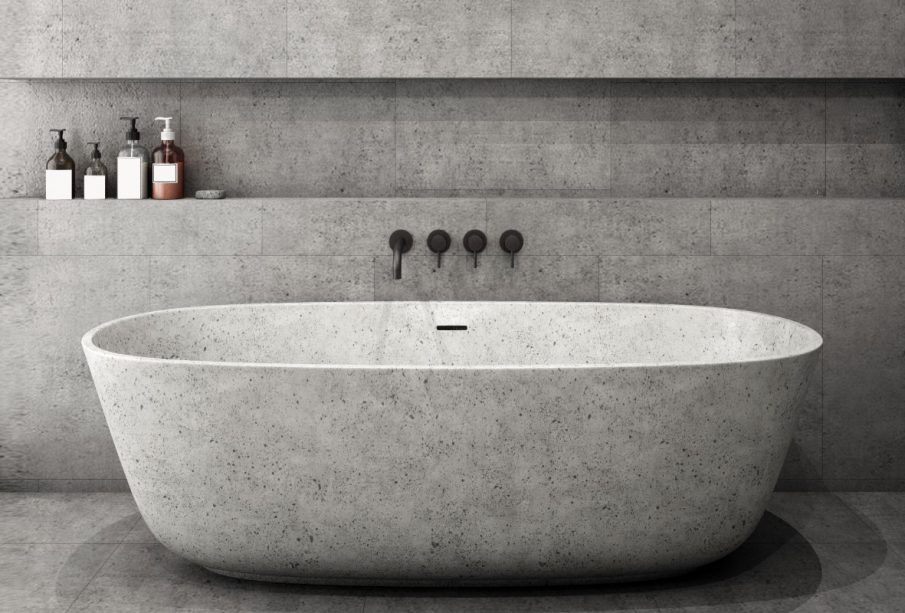 Do you want to decorate an elegant, fashionable and functional bathroom? Wondering whether to choose a gold or black mixer? We will present the advantages and disadvantages of each solution. This will help you make your final decision. Check whether to install a matte black mixer or a gold one!
Black mixers in the bathroom – advantages and disadvantages
The stylish black finish is almost as popular as classic chrome or timeless stainless steel. If you like glamorous interiors, black mixers are sure to appeal to you. It conveys sophistication and luxury
The matt black mixer looks extremely stylish and elegant. It goes beautifully with a neutral color scheme. It will liven up even the dullest bathroom in no time. To emphasize the modern character of your interior, combine a black tap with a white washbasin. This will show that you're not afraid to experiment.
If you dream of a quick bathroom makeover, opt for black faucets. It usually has a galvanic finish, which makes it more durable and resistant to marks and scratches. You just need to take proper care of it. Unlike chrome, it does not show fingerprints as much, so it is perfect if you have small children
Black mixers go well with natural materials like stone, marble and wood. It fits in with most interiors. It is most often found in modern and contemporary spaces, but can be successfully used in a rustic room. It all comes down to choosing the right shape of faucet
>> Discover also: Ideas for the bedroom – as many as 13 inspirations!
How to take care of the black mixer?
Remember to protect your black mixer from the sun, otherwise it can fade. Wipe it regularly with a microfiber cloth. This will keep it looking like new for longer. Although the black coating is scratch-resistant, your plumber should be careful when installing it.
Avoid strong detergents, just wash the faucet with lukewarm soapy water. Remember to dry it afterwards. This will prevent water from tarnishing the finish.
Why choose a gold bathroom mixer tap?
If you want to visually warm up your interior, opt for a golden mixer. It goes well with white and pink elements of the equipment. If pink seems too radical to you, combine navy blue with gold – this combination will work perfectly in any bathroom.
Such mixers will emphasize the luxurious character of the interior. It goes perfectly with a golden mirror and gold-plated shelves. Match them with black sockets, pewter cupboard handles in the shape of a teardrop and a black, elegant cabinet. This is a fantastic example of how gold and black can work perfectly together
If you like classic solutions, gold fixtures will definitely appeal to you. It goes well with marble and wood. You can also combine it with matte black. Gold plumbing fixtures add a touch of chic and sophistication to an interior. Satin brass or champagne brown go well with chrome faucets and matte black handles. These mixers go perfectly with light gray-beige walls
Brass faucets are less popular than chrome and matte black. However, if you like to go against the trends, gold faucets will certainly appeal to you. They are usually made of brass or stainless steel
Over time, it may develop a patina. It looks great in a white bathroom with wooden accents. It can warm up a cool, subdued interior. Golden mixer goes well with navy blue or gray. The faucet can have a polished or brushed finish. Shiny brass resembles chrome in some ways. You can combine it with polished accents. Brushed, on the other hand, impresses with its subtle elegance.
What are the disadvantages of a gold bathroom faucet?
Gold fittings are not without disadvantages. First of all, you have to pay more for it than other finishes. You should take this into account when preparing your budget. Second, you may have trouble matching the faucet with other accessories. Third, some gold faucets lose their shine over time. If you want to avoid this, choose a product from a proven manufacturer. Also, check the product range carefully. You may find the right accessories. This will help you create a consistent design.