A home cinema that fits in with the ambience of your home
You need about 4 min. to read this article.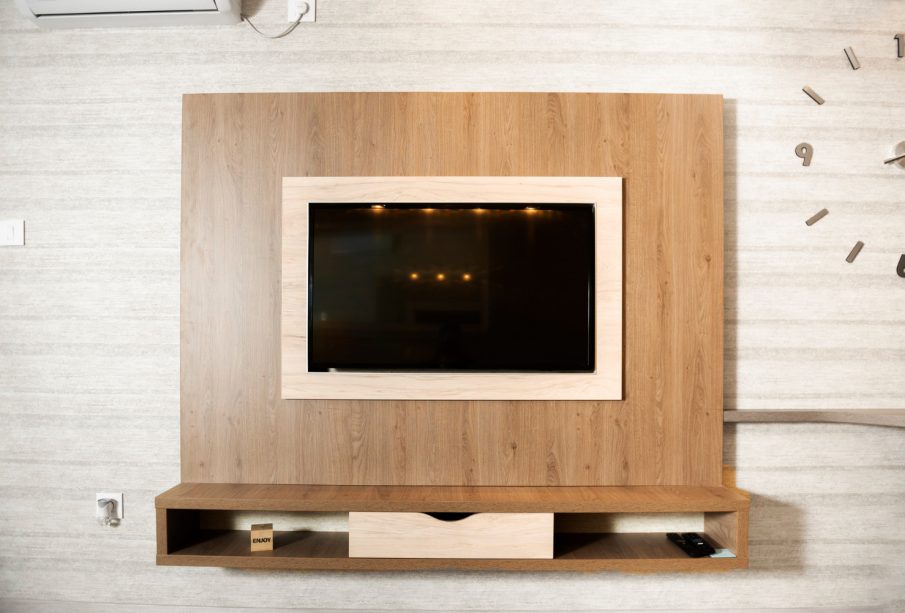 You have just decorated your apartment or you are after general renovation and you are looking for a home cinema that will fit into your living room arrangement? We will tell you how to choose the equipment depending on the size of your space.
The very name – home cinema – suggests that the equipment for displaying films will be rather large. Especially the TV screen itself, which is supposed to provide us with similar sound and visual effects to those experienced in movie theaters.
The quality of sound, when we watch our favorite program or listen to music, has to be at the highest possible level. That is why it is not worth trying to get into quick promotions and buying equipment spontaneously, without prior knowledge of its parameters, which are a fundamental issue. If we are looking for home cinema typically for the climate of our apartment, it is also quite a challenge, because in addition to the technical side, we also need to match electronic elements to the place
Home theater in the apartment. Is it worth it or not?
Of course it is! After all, we live in the twenty-first century, where technology is at a very high level and continues to develop towards technical innovations. Just a few years ago, home cinema was a luxury that owners of larger living spaces could afford. Nowadays, if we properly choose the equipment for the room, it may work in somewhat smaller apartments, even in those of small size in blocks of apartments
However, we must remember to match this home theater to the interior, unless we plan to arrange a small cinema room in the apartment, or a room typically to display movies, then we can choose decorative elements for home cinema equipment.
>> See also: Home theater in the basement – equipment, furniture and everything you need
What home cinema equipment will work best in a block of flats?
When deciding on a home cinema in a block of flats, we need to remember that after 10 pm we are bound by the curfew. This limits us and when choosing equipment, we have to take into account its limited sound capabilities and bass power. Fortunately, the market offers many interesting solutions, which will pass the test even in small rooms with limited sound quality
What equipment to choose? One with low output power. You should also pay special attention to the number of channels and choose a set of rather small size. If you decide to buy a complete home cinema set, choose one with small-sized speakers. Then it will be much easier to place them in a room so as to obtain the desired sound.
Large spaces in the apartment mean a better sound effect
Definitely, home cinema works better in a house or apartment with a large area. In a larger space you can easily find more room and create your own "cinema corner" dedicated only to watching movies. A great idea is also to create a home cinema in the living room.
A few proven tricks will allow us to transform our large living room into a professional cinema room. However, these ways depend on the style in which we have arranged our apartment. For example, we can make our cinema room a space thematically referring to the theme of our favorite movie
In the industrial style, in which lofts are most often arranged, the theme of old Hollywood will be very useful. On the walls, we can additionally hang black and white pictures with stars of the golden era of cinema, such as Marilyn Monroe or James Dean
Let's also keep in mind the fact that the cinema room can not be looked at only through the prism of professional equipment, it has to be a functional room and a coherent arrangement. Therefore, we must take care of its lighting. A good and recommended arrangement idea is a suspended ceiling, on which lighting fixtures will best reflect the cinema atmosphere. Blackout blinds for windows will also come in handy to make you feel like you are at a real movie screening.