What fixtures to consider when planning a bathroom?
You need about 4 min. to read this article.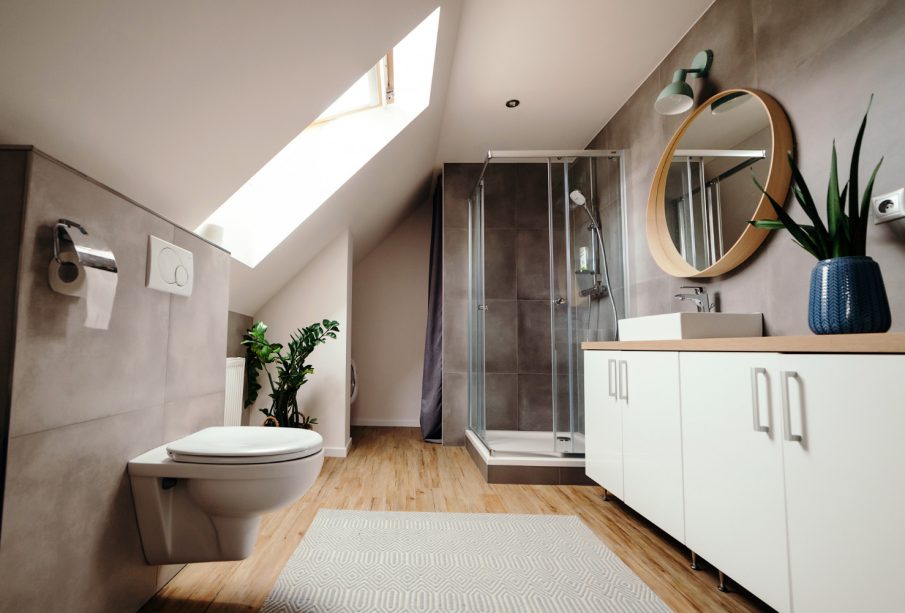 Are you preparing a bathroom renovation or maybe you are moving to a new place? Before you go on a shopping spree and forget about the design, it's a good idea to think about what to equip your dream bathroom with. Consider what your budget is, pay attention to the square footage and what style you want to decorate your bathroom in.
Shower or bathtub?
This is a question that can lead to serious arguments. The die-hard shower lovers will say that taking a shower in the bathtub is uncomfortable. Fans of the bathtub, on the other hand, will say that installing a shower takes away the opportunity to relax in the bath, even if you only have time for it once a week. Of course, the ideal solution is to have both a bathtub and a shower in the bathroom. If you have the space for it – don't hesitate! It really is a practical solution. However, if you must decide on one, you need to answer a few questions. First of all, how often do you take a bath? Do you use the bathtub only for taking showers? Or would a bathtub with a shower enclosure and shower panel be the best option for you ?
Which shower should I choose?
Bathroom fixtures should serve you for many years. No one wants to buy a shower that will immediately need replacing, so bet on the best quality products. Before you buy your shower, make sure that it will definitely fit the dimensions of your bathroom. With such large pieces of home furnishings, unfortunately, you won't be able to do anything with it later on
If your bathroom is small in size, opt for a wall-mounted or corner shower enclosure that will take up the least amount of space. Keep in mind that if you choose a small cubicle, you will make it difficult to move around in it. The most common size is 80 × 80 centimeters. However, many stores offer asymmetrical cabins. Definitely more practical will be a door than a curtain
Most often, shower models use hinged doors that open to one or both sides. While this will provide you with a comfortable entry and exit from the shower, it also requires an empty space in the bathroom, so this is a solution suggested for rooms of larger size. In other cases, opt for sliding or folding doors.
Showers without a shower tray with a drain in the floor have recently become particularly fashionable. This model is perfect for both small and large bathrooms, will definitely make it easier to keep clean, and at the same time looks really stylish. A big advantage of this solution is that it makes it easier for the elderly or disabled to wash.
Which bathtub should I choose?
As in the case of the shower, opt for high quality materials and proven brands. You should also think about the size of your bathroom and whether you have enough space to install a bathtub in which you will be able to take baths comfortably. If not, you may find that it would be better to opt for a shower
Large sized bathtubs, such as corner bathtubs, are the most convenient. They provide great convenience and the ability to bathe not only individually. This is useful for families with small children, toddlers like to splash in the water together, and in the case of babies there will be enough space to insert a bathtub
An additional advantage of installing a bathtub in your bathroom is that you can opt for a whirlpool bath, for example. You will easily find offers for rectangular bathtubs, corner bathtubs, oval bathtubs, asymmetrical bathtubs, built-in bathtubs and bathtubs combined with a shower. For example, you can buy these bathtubs at http://hydrosan.eu/wanny-spa-z-hydromasazem.
Accessories and furniture
Particularly important for the bathroom is what furniture you decide on. In the bathroom you store not only a large number of cosmetics, but also cleaning products or washing liquids, which you certainly do not want to present to the whole world. Decide on a countertop sink if you need to install a cabinet underneath it. In small bathrooms, make clever use of free space, for example by placing cabinets high up on the ceiling. This will give you a visual sense of more space, while also providing a place to store your belongings. Great additions that are becoming increasingly popular are, for example, soap and toilet paper dispensers that elegantly conceal these products and ensure hygiene, especially in apartments with multiple occupants. You can find them in the pureco store.