7 Steps to Pick the Perfect Wallpaper for Your Bathroom
You need about 5 min. to read this article.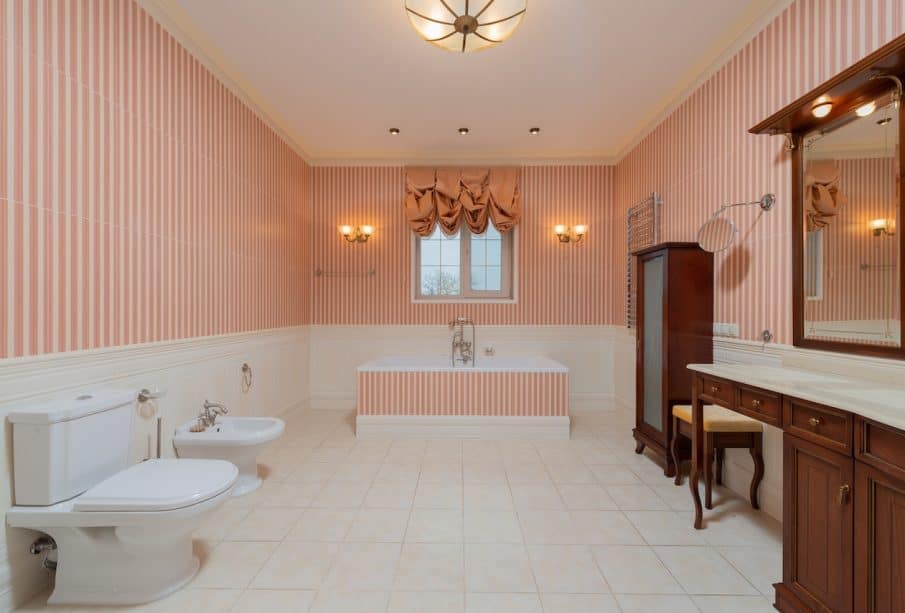 With thousands of different designs available in the marketplace, choosing wallpaper can feel like the most daunting task in bathroom decorating. Where do you even start? How can you ensure you choose something that will match your taste and the style of your home? This article gives step-by-step instructions on how to pick the perfect wallpapers for your bathroom, ensuring your space has everything it needs to be beautiful and functional.
1) Get inspired
Consider what you want your bathroom to look like. What colors do you use in your room and what type of atmosphere would you like?
Think about whether you are looking for a statement piece or something more subtle. There are many websites that will help point out different patterns, colors, and designs that might suit your bathroom. You can play around with different options: by printing out wallpaper samples and placing them on one wall of the bathroom, it becomes easier to make a decision. This is also good if you have trouble narrowing down which pattern or color is best for your space. Ask friends and family members their opinion.
2) Analyse your bathroom
When it comes to bathrooms, there are two main things that people want- a clean bathroom and an aesthetic bathroom. And if you're looking for a way to combine these two elements, you might want to consider wallpaper. When you choose the wallpaper for your bathroom, there are a few things that you should take into account.
First of all, make sure that the wallpaper is easy-to-clean and doesn't show dirt too easily. Secondly, think about what type of atmosphere you want your bathroom to have. For example, do you want a calm atmosphere with light colors or do you prefer something more vibrant? Next, think about what color scheme will suit the space- monochrome or varied shades. Finally, think about whether the design matches any features in the room such as mirrors or tiles.
3) Consider all types of tiles
For those who are looking for a more luxurious bathroom experience, there are a few tile options that can be used in conjunction with wallpaper. The most popular option is a marble. Marble tiles are one of the most luxurious and expensive types of tiles on the market, but they also offer a timeless and elegant look to any bathroom. If marble isn't your style, other options include porcelain or ceramic tiles with sleek finishes such as matte, polished or glazed.
4) Choose your color palette
Picking a color palette is one of the most important decisions you will make when decorating your bathroom. However, it can be difficult to choose a scheme that makes your space feel stylish and cohesive. The first step in the process is deciding what kind of mood you want your bathroom to have. Are you looking for something calming, cheerful, or bold? Next, choose two or three colors from your chosen palette and find complementary shades. These are colors that are opposite each other on the color wheel and will work well together.
5) Avoid clashing patterns
When picking out wallpaper, it's important not to choose something that's too busy. This will make your space feel smaller and cramped. Choose a pattern that is simple and has soft colors or calm patterns. We recommend using a lighter color on the top half of your walls and a darker shade on the bottom, which will create a sense of balance in your space.
6) Use wallpaper borders and frames sparingly, if at all
Wallpaper borders and frames can be a great way to add interest and flair, but can quickly become too much. If you want a border or frame, keep it simple. You don't need a bunch of patterns or colors clashing with each other on your walls just because you have one border or frame.
7) Be prepared to change your mind!
Wallpaper is a great way to add a splash of color or style to your bathroom. However, you may be surprised by how many choices there are and what each type of wallpaper will look like in your bathroom. You can always change them when you want something new on your walls. It's easy to change them.
Final Thoughts
After reading this article, you should have a much better understanding of what it takes to pick out the perfect wallpaper for your bathroom. You should also know how important it is that you make sure that you are following all of the steps in order to get the best possible result. Now all you need to know is a place where you can get wallpapers for your bathroom. https://pixers.us/ is the place where you can get a range of wallpapers made with the best quality materials that look good and last longer.
Main photo: Max Vakhtbovych/pexels.com