Scandinavia in the bedroom – what colors to choose?
You need about 3 min. to read this article.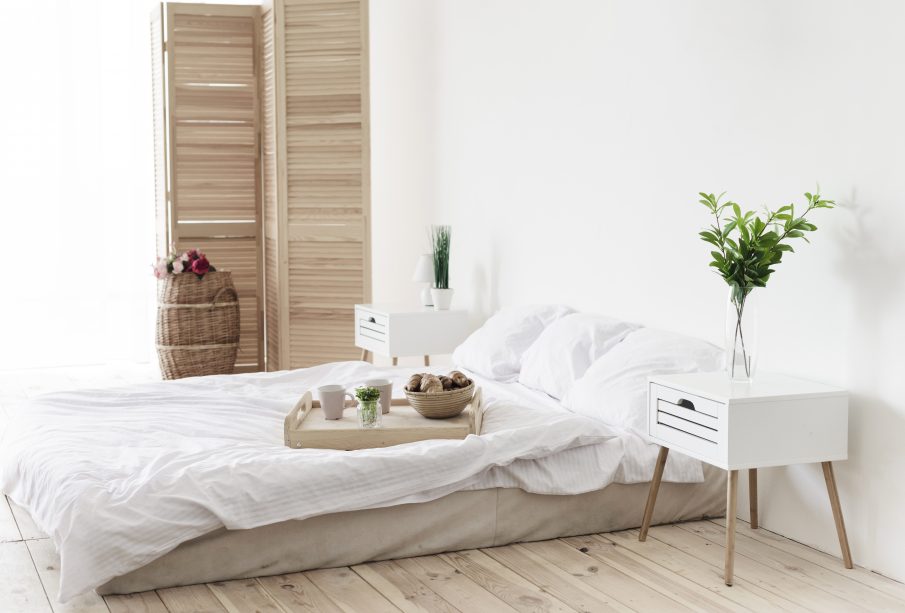 Interiors arranged in Scandinavian style have been popular for a long time. Deciding on the northern climate, it is worth to find out what wall colors to choose.
Scandinavian style – what distinguishes it?
Speaking of Scandinavian style, we should remember that the appropriate color palette refers not only to the colors of the walls, but also to the shades of floors and furniture. But what makes this style so desirable? First of all, the attention is attracted by the characteristic simplicity and high functionality; subtle colors and practical elements of equipment. Bright and spacious and minimalist rooms are close to the Scandinavian style. This style works well in small apartments. By using bright colors it is possible to visually enlarge the interior. And if we have large apartments, we can also opt for this style.
Choice of wall colors
Deciding on the Scandinavian style, we should match the wall colors with the mentioned style. For simplicity and universality, we can choose shades of white and gray. It is these colors that we use in the Scandinavian style, although they are not the only ones that you should decide on.
Colors in Scandinavian style
The main purpose of choosing the right color of walls in Scandinavian style is to optically enlarge the room with their help. For this, bright colors are ideal.
White – you can not start with another color. This most universal color best brightens up the interior and optically enlarges the entire room. Moreover, white is an ideal base for further arrangement of rooms. In case of kitchens, we don't have to resort to paints, ceramic tiles, also white, will find their perfect application here. It is worth choosing even warmer shades of it.
Gray – we have many shades of gray to choose from; from very light (sometimes entering white or mixing with its shades), to deep and dark graphite.
Blue – this color perfectly reflects the spirit of Scandinavia. However, if we care about darker shades of blue, we can safely reach for navy blue.
Light beige or ecru – will work perfectly in the living room and bedroom.
Pastel colors – subtle pastels also have their place in the Scandinavian style. What shades can we match? First of all, subtle yellow, powder pink, and toned, slightly dirty green.
Scandinavian style – how to combine colors?
Choosing one dominant color gives an interesting effect. You can also successfully decide on a mixture of colors. That is why white is a perfect base color. We can easily match both bright and dark colors. Even pastel colors blend perfectly with white. In case of bright colors, remember that they should not be on the walls. If you decide on such colors, it is better to use them in accessories