You need about 4 min. to read this article.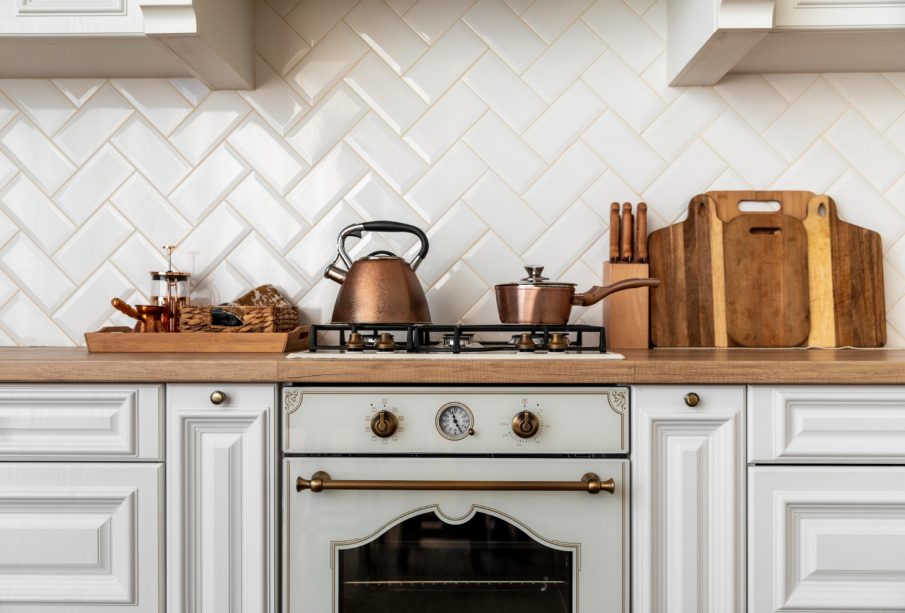 Full of lively, slightly crazy colors, but always associated with functionality and elegance – such are the interiors in retro style. How to arrange a kitchen in this climate? Here we suggest.
Arrangements in retro style bring a lot of warmth, climate and, above all, subtlety to the room. Current trend for retro furniture also applies to furniture, which can be obtained not only in vintage stores, but also increasingly in popular furniture chains. Are you in the middle of a renovation? How about arranging the kitchen in a retro style? This decor will allow you to return to the carefree childhood years, but will also bring to the kitchen a bit of novelty, combined with sentimental classics of the 60s. 70s. or 80s.
Retro kitchen – not only dominated by white
Most people associate retro style with the style of Provence from the south of France or English style, which is often depicted in costume movies from the late 19th century and early 20th century. Pastel shades dominate in them, and the furniture is mainly in tones of beige and white.
Nowadays, however, the retro style has been somewhat modernized and modern trends allow us to introduce to the kitchen a bit bolder, vibrant colors, such as graphite, gray or navy blue. But let's admit that such stylistic mixture would work better in a living room or bedroom. In a retro kitchen it is better to keep the color balance.
What exactly does that mean? The idea is to focus mainly on classic shades of walls, furniture and accessories. If we go into too strong stylistics, we can only harm the final effect, not achieving the intended retro style.
>> See also: Kitchen arrangement in retro style – what kind of furniture?
What else do we associate retro style kitchen with? It is with the aforementioned idyllicity, family atmosphere, a place that with its simple arrangement encourages us to spend time there together, cooking and eating meals. Retro style is a complete contradiction of splendor, excess, kitsch, it is about a subtle combination of decorative elements with furniture and wall colors.
Choosing furniture for retro kitchen. What should I choose?
Modern design combined with minimalism and light shades, as well as wood – this is how you can briefly describe the arrangement of the kitchen in retro style in 2021. The heart of the house should be vibrant, so the choice of the kitchen table plays a key role. It has to be a functional piece of furniture, which does not take up too much space, but also fits in with bright furniture. For example, we can choose a wooden table. It is important that it has carved, oak or oil-painted white smooth fronts. In new kitchen furniture, you can also replace the handles with stylized ones, for example ceramic ones. Such handles were once very fashionable and now they will add an idyllic atmosphere to the interior.
Remember that retro-style kitchen furniture is a subtle combination of decorative segments with a simple form. It is good to match them with each other in terms of arrangement. Wooden, preferably oval table, sideboard and chairs should be similar in form, possible decorations. Characteristic of the retro style furniture are usually made of unique, because natural furniture materials. They are also often fitted with metal, sometimes ceramic, decorative handles, which add to their character.
In kitchen cabinets it is good to bet on glazed door showcases. It is also an interesting stylistic treatment, because it exposes the contents of the cabinets, but also forces to keep order and tidiness in them. In retro kitchens, you may also often find a tall, wooden counter as equipment. It is beneficial in terms of arrangement to add high stools (a'la chairs) to it.
To decorate retro-style kitchen in an effective way, you need to properly compose and choose accessories. Those with rounded shapes will work best in such an idyllic climate. Remember also about the color scheme, which plays a significant role – pastel shades will be a hit.