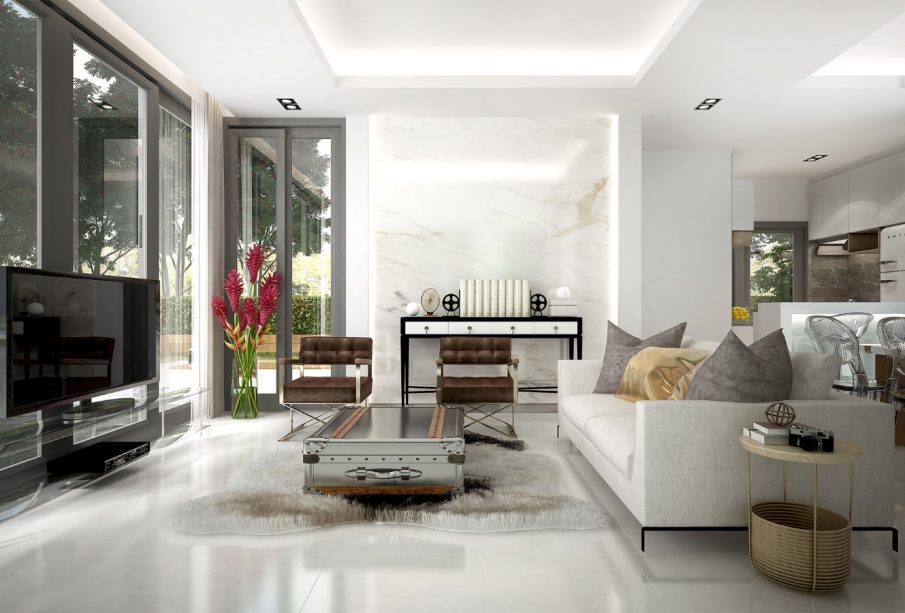 The modern living room is bright, comfortable and spacious. Maximum functionality and at the same time the value of unprecedented beauty hidden in simplicity. How to create a modern living room?
Minimalism
Such living rooms are the juxtaposition of a finite number of colors, textures and furniture, more often in a minimalist style, and a deeply thoughtful decor. In a modern living room nothing superfluous lies on top, each item has its own place. Accessories (e.g. plants, paintings) occupy strategic space.
Loft style
This is what is at the forefront of today's interior design fashion, so it is worth considering whether it would not also suit our living room. Interesting will be here unusual wall decorations, consisting of raw stone or brick, which by the way will slightly warm up the interior and will go well with a simple line of furniture and colors with a predominance of white or gray . A unique effect will also be obtained from the combination of these elements with glass, mirror or chrome accessories, for example on the walls or floor. As you can see, ideas can be multiplied.
Lighting
In such a living room, lighting is also well thought out, both daylight and artificial. It emphasizes selected spaces of the living room, makes us notice these and not other elements of the decor. It is necessary to consider where it is needed more (e.g., in the kitchen area), and where less (e.g., by the TV). Interior design should be arranged so as to divide the lighting into main, diffuse and spot, obtaining an interesting effect. In a modern living room, rather rely on large windows without curtains (or fancy curtains or panels). The key addition (instead of trinkets) to the interior can be, for example, a sizable lamp or chandelier with fine shapes.
Vibrant colors
We can allow ourselves to have colorful accessories or walls, but we must keep in mind a few rules when doing so. As far as furniture and floors are concerned, it is common practice to choose dark brown, shades of grey or white , because if we choose rare colors, such as green or blue, it will be difficult to match them with other elements. It is also worth remembering that a dark color of the floor will optically lower the interior, which will not work in low rooms.
A dark color will also not suit smaller living rooms (it will optically make them smaller); light colors will be more suitable there. However, we don't have to resign from similar solutions – if we absolutely want a colored wall, let's make it, but only one, then the whole interior will gain more character. Furniture in strong colors will enliven our living room, but it will look best against a background of cooler colors.
Functionality
Our living room should, above all, be functional, that is why we have to think about how we are going to spend our time there. For example, if we are going to spend long hours watching movies, we will need a comfortable sofa and a bigger TV set. If we want to save on space, it is worth to combine the living room with the kitchen and create a multifunctional room. We are the ones who are going to use this place, so we are the most important ones.
Furniture
A comfortable and soft sofa, on which we can rest after a day's work, is the key piece of furniture in a living room. Modular sofas, whose elements can be freely rearranged depending on the situation, enjoy great popularity. A good solution is furniture made to measure, perfectly matched to our interior.
Modernity in our own way
When choosing a modern look for our living room, we should be guided primarily by its functionality, find beauty in simplicity and avoid excess. The modern living room is harmonious in color and refined in every detail. Minimalism also plays an important role – each item in our living room should find its place. When looking for inspiration for the arrangement, it is also worth to follow the currently fashionable loft or industrial style.