What tile color to choose for your bathroom?
You need about 4 min. to read this article.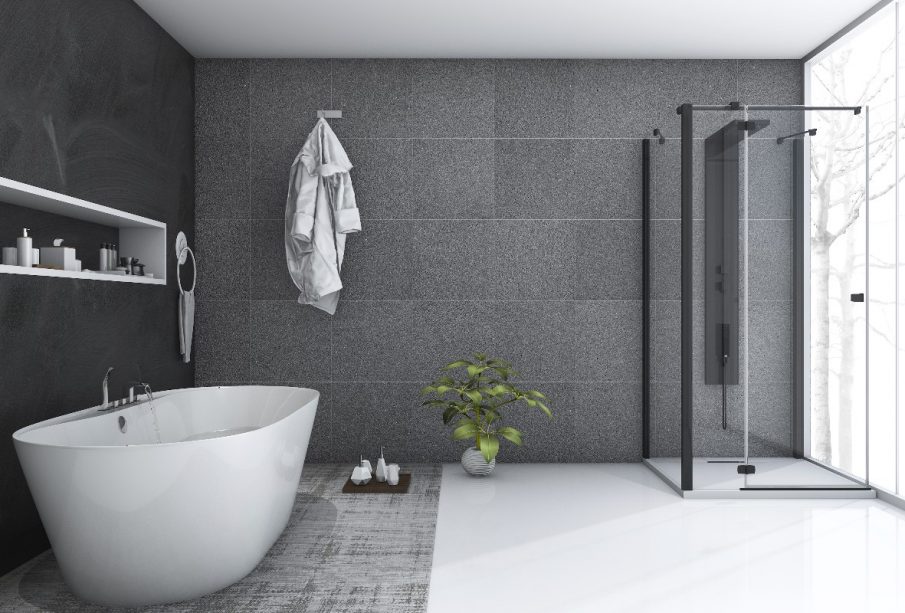 Choosing tiles for the bathroom should be well thought out, as it is a purchase that will stay with us for years. The right color scheme for the bathroom can affect the way we feel in a given space. Many people are now opting for a white interior finish, but is it the best solution?
Bathroom tiles are usually laid not only on the floor, but also on the walls, especially in areas that are easily splashed with water. This gives you the option of decorating your bathroom in a monochromatic shade or using several different colors and textures. The size of the bathroom is important. A small room should be optically enlarged by using appropriate arrangement solutions
What tiles should I choose for my bathroom?
When choosing tiles for your bathroom, it is worth to take into account several aspects. Besides their color, size, material from which they were made, and shape are important.
While considering these issues, it is worth thinking about what effect we want to achieve. Is the bathroom to be elegant, modern or minimalistic? If you enjoy long baths, it is worth taking care of the right, atmospheric atmosphere in the bath room. If you use your bathroom only as a place for quick showers, you should focus primarily on practicality and functionality.
Choosing the right tiles allows you to highlight the furniture and accessories in the room. Designer fixtures, with their interesting shapes and patterns, can look really impressive
What color of tiles goes well with a small bathroom?
Tiles for a small bathroom should be kept in light colors. Different shades of white optically enlarge the room. If you do not want to have only one color of tiles, you can decide to add tiles with a cool color. This type of color scheme will add an impression of spaciousness to the interior. In such a bathroom, it will be necessary to warm it up with pleasant light and interesting accessories
Avoid contrasting combinations on the bathroom floor. White and black checkered pattern makes the room look smaller.
In small bathrooms it is better to bet on glossy and reflective materials. Matt tiles do not give the effect of light diffusion, making the space seem smaller and darker
It is worth choosing uniform tiles, devoid of patterns and ornaments
>> See: 3 practical and stylish bathroom accessories
Bright tiles for the bathroom
The color scheme of the decorated room is a key issue. It is worth considering what type and color of tiles we want to put on the floor, and what for the walls
What are the advantages of a bright bathroom? Bright tiles in the room make it seem optically larger and more spacious. Unfortunately, on white tiles you can see every hair and fuzz, so it is not a very practical solution. It will be better to use slightly darker tiles for the floor, which will contrast nicely with the light walls. More and more popular now are stoneware wood-like tiles, which give the room a natural and warm atmosphere
It is easy to liven up a bright bathroom by adding some accessories in strong colors. People who are lovers of chic interiors will certainly like the duet of white and gold. To give a bright bathroom a boho character, it is worth putting some green or floral elements in it
Dark tiles for the bathroom
Dark tiles with strong colors can be a fantastic accent in a light bathroom. Some people choose to arrange the entire interior by lining it with dark terracotta. This type of bathroom gains a mysterious character, which is perfectly conducive to climatic baths and relaxing treatments
On the background of dark walls white sanitary appliances look great, giving the bathroom a unique style. Designer fittings and accessories for the bathroom will allow you to create a unique space in your home