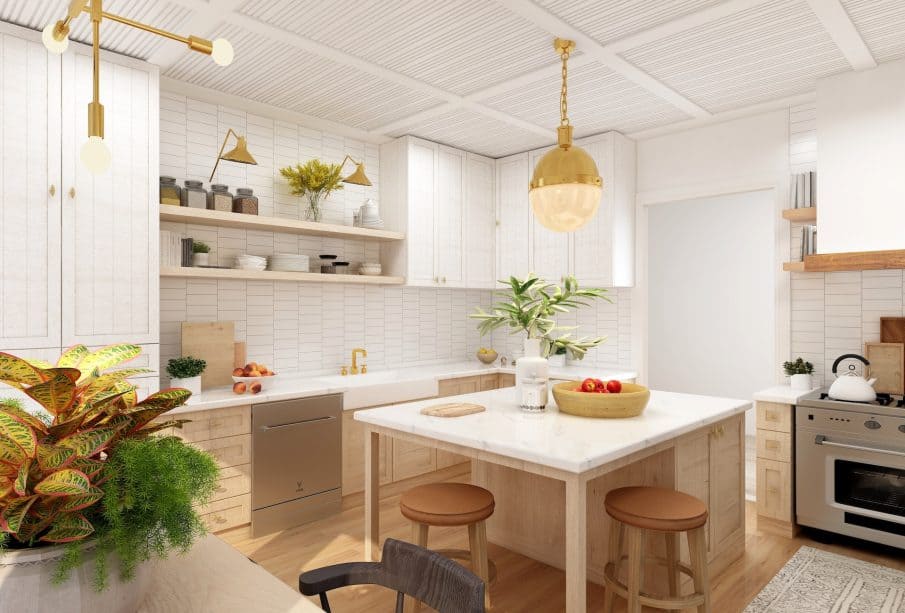 Country-style kitchen is a timeless hit, which will make the interior cozy and family-oriented. It is worth choosing the right accessories to make it look stylish, but not overdone.
Distinctive accents will add coziness to the interior
A rustic kitchen is decorated in a simple, but very cozy and idyllic way. The word "rusticus" from Latin means "rural" and it was the countryside of the previous century that was the mother of the birth of this style. It is characterized by heavy wood furniture and natural materials. Rooms decorated in rustic style make us feel like we are in an old cottage.
Such a kitchen is usually bright – dominated by white and warm shades of browns, beiges and greens. Subdued colors of walls and kitchen fronts are a good background for folk accessories and colorful patterns such as flowers, checks and stripes. Expressive accents perfectly enliven the interior and add to its coziness.
Although such a kitchen usually has a lot of accessories, it is worth remembering that the country style is not about accumulating old things. Decorations for the house must form a harmonious and complementary whole. The vast majority of accessories should have a utilitarian role – an example would be an old coffee grinder or a cuckoo clock. An interesting addition will be a painting with a rural landscape, depicting the harvest, for example. For accessories it is worth going to the flea market or looking for old items in the attic at the family. An old kerosene lamp, which will bring a unique atmosphere to the interior, will suit a rustic interior. A cast iron ceiling lamp will also be an interesting option.
Can not miss handicrafts and fresh flowers
A rustic kitchen acquires a unique character through accessories. You can hang colorful, embroidered or lace curtains on the windows, and on the table there should be braided coasters for coffee or tea. In old-style kitchens, natural materials play an important role – in addition to wooden furniture, ceramics or wicker baskets, you should choose materials made of cotton or linen. Tablecloths and napkins usually have folk, floral motifs – lace and embroidery are welcome. The whole rustic kitchen will be complemented by hand-embroidered tapestries hung on the walls.
Folk motifs should also appear on ceramic plates and clay jugs or mugs. To add some coziness to the interior, a soft rug can be placed on the floor.
Certainly, fresh flowers and aromatic herbs should appear in any rustic kitchen. On the wall it is good to hang small wicker baskets and place fragrant flowers in them. In turn, dried and composed field flowers and grains can be tied into bouquets and hung on the eaves. On a large table can not miss freshly cut flowers. Cornflowers or field poppies will do well.
Favorite herbs should be planted in porcelain hand-painted pots. These can include peppermint, lovage, basil, oregano or chamomile. Under the upper cabinets an interesting solution will be to hang garlic cloves.
main photo: unsplash.com/Collov Home Design