What style does concrete go with?
You need about 3 min. to read this article.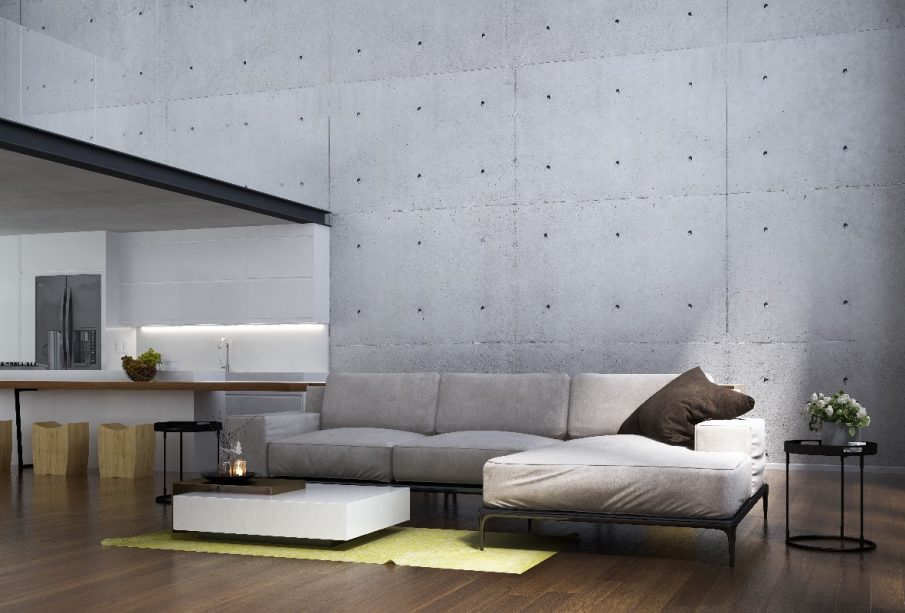 For several years now, decorative concrete has been on the top of the agenda when it comes to materials for modern style interior design. It looks great both in the living room, bathroom and kitchen. Sometimes, however, doubts arise as to what style it will harmonize well with.
Decorative concrete is quite universal
At least in its basic grey form, concrete finishing slabs can create a good base for various interior arrangements. Its neutral color means that this material will not work beautifully with other colors, creating an ideal base for them. Decorative concrete can serve as a backdrop for interesting design elements.
Architectural concrete goes well with lofts, i.e. spacious apartments of high standard which were arranged in former post-industrial rooms. It fits well with their raw elegance and cool climate.
Industrial style – concrete makes it possible
Raw character of industrial style is easy to achieve thanks to the use of concrete elements in the interior – even large-format panels made of this material
Of course they will not create loft atmosphere alone. So, it is worth using elements of concrete together with red brick, which will diversify the appearance of the interior. You can also bet on wooden furniture. An interesting addition remains metal or made of an old beam chandeliers, which you can make yourself
Minimalism and decorative concrete
The ascetic appearance of gray slabs of concrete also allows them to be used in minimalist arrangements. They will make them more interesting, at the same time will not disturb the harmony by introducing bright colors
Increasing popularity of various shades of gray in the interiors makes architectural concrete for several seasons is so popular
Concrete as an element of Scandinavian style
A specific kind of minimalism and a desire to use natural materials are characteristic elements of the Scandinavian style. Concrete slabs, although they don't quite meet the criterion of naturalness, still are a common element in interiors in Scandinavian style. In the Swedish variation of this style, materials such as wood, linen, wool and architectural concrete occur side by side and intertwine. The trick is to give individual elements the right proportions. With a bed covered with natural fabrics and a wooden floor, a concrete wall can be a great solution
Unusual decorative concrete slabs
Sometimes plates of architectural concrete are colored so that they differ slightly from the usual gray. So you can find products with a color defined as, for example, "brick", "anthracite" or "Saharan white". There are also proposals shimmering in gold.
It is also worth mentioning that concrete slabs allow us to cover any space with them. This may be the entire wall, but it is not necessary, especially when we decide on a standard, gray shade. The rest of the space can be covered with a color of our choice.
Architectural concrete as a fireplace decoration
In practice, architectural concrete does not have to decorate only the walls and floors. A good example are made of this durable and fireproof material fireplace covers. Thanks to such lining there is a chance to smuggle the fireplace into the industrial interior