Hotel rooms in Scandinavian style – how to decorate them?
You need about 3 min. to read this article.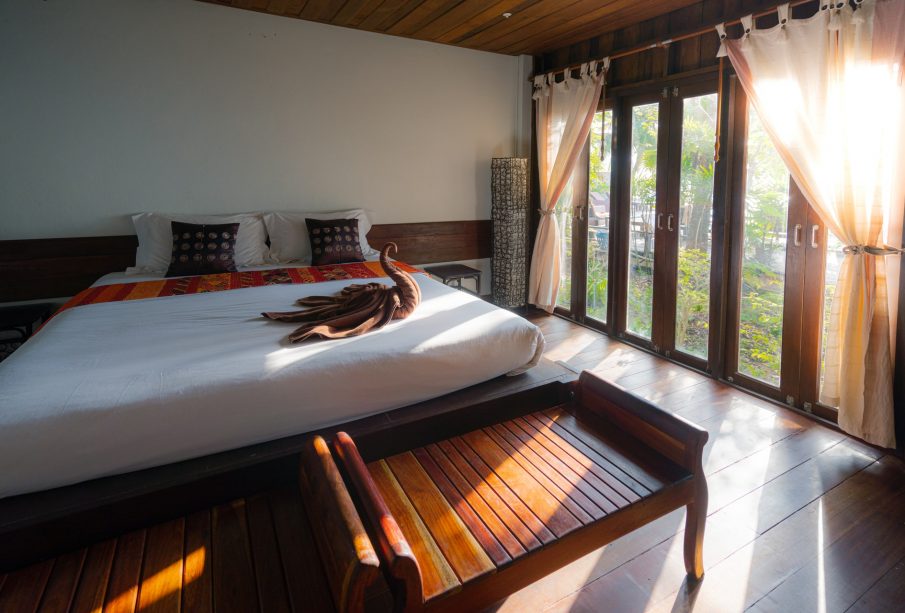 Scandinavian style is the essence of simplicity, comfort, bright and muted colors. It is the perfect trend for arranging a hotel space. How to arrange a room in this style? Here are our inspirations!
Scandinavian hotel – what are the characteristics of Scandinavian style?
What distinguishes a Scandinavian-inspired interior? It abounds in bright colors – white, gray and beige dominate here, which optically enlarge the room and give the impression of spaciousness. Typical for Scandinavia, a bit severe climate is emphasized by wooden floor – usually made of whitewashed boards (but if we want to warm up the interior, light brown panels will also work well).
Furniture in Scandinavian style is usually simple and white or varied with wooden elements in natural color. A perfect complement to the interior will be night lamps, carpets and posters on the walls maintained in this trend. What is important, Scandinavian-style equipment is quite affordable – so we can comprehensively equip hotel rooms without overstretching the budget allocated for this type of investment.
Hotel room in Scandinavian style – inspirations
The first example of hotel room design in Scandinavian style will also delight fans of minimalism and simplicity. A large wooden double bed and modest bedside tables from the same collection complement each other perfectly. Light linen bedding and numerous pillows encourage to relax and give the interior a homely, familiar character. A jute rug in a color similar to the furniture also draws attention. Modern, slightly rough bedside lamps have not only practical, but also decorative function
Another interesting inspiration for a Scandinavian bedroom is this one, in which, for a contrast, dark colors present in paintings, headrest and blanket have been used, which beautifully break the whiteness of walls and bedclothes. A small, wooden bedside table gives the interior a cozy feel. Certainly, every guest will feel good in such a decorated hotel room.
Hotel bathroom in Scandinavian style – inspirations
As you know, in many accommodation facilities to the rooms belong private bathrooms (exclusive for guests). Here is a good example of a sanitary room, which combines the basic features of the Scandinavian style – the bathroom is simple, bright and functional. There is no place for unnecessary trinkets and shiny decorations. Wooden worktop and wood-like tiles on one of the walls perfectly harmonize with white and grey colours. Large mirror without a frame optically enlarges the interior.
An interesting alternative will also be a bathroom with black details, which combines two styles: Scandinavian and loft style. Hexagonal tiles on the walls and gray casing of the bathtub look good together with a glass wall with black bars. Thanks to this, we can easily take a quick shower in the bathtub, and if we have more free time – a long, relaxing bath.
In conclusion, the Scandinavian style is ideal for hotel facilities – interiors decorated in accordance with this direction look neat, modern, bright and encourage relaxation. This is a neutral decorating trend, which will certainly appeal to any guest visiting our hotel or guesthouse.
main photo: Alexander Kaunas/unsplash.com