You need about 3 min. to read this article.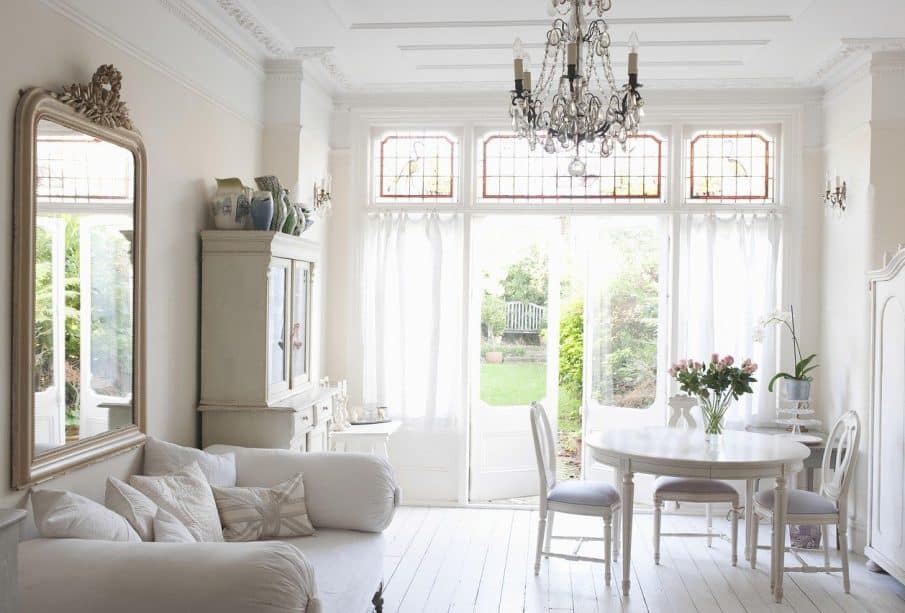 English style is chic and elegant in its pure form. However, it is definitely not a good option for people who appreciate simplicity and minimalism. Abundance of all kinds of accessories, trinkets, materials and textures, floral patterns and ubiquitous pastels is not for everyone. This is what distinguishes interiors in the English style. And what kind of lighting will bring brilliance to these elegant arrangements?
English interior
Rooms maintained in English style have several fixed elements. They usually include: a fireplace, stuccowork, pastel colors and floral patterns, even on walls in the form of wallpaper, paintings, souvenirs from travels or porcelain figurines filling glass cupboards and display cases. Another must-have element is comfortable upholstered furniture, in which we can sink in and give in to a moment of relaxation. Living rooms or bedrooms in English style are full of light and pleasant glow, creating a unique, somewhat intimate atmosphere with a romantic touch.
Lighting in the English style
It can be said that the English style would not exist without stylish accessories, and such are undeniably elegant lamps, candlesticks full of candles, porcelain glass and sparkling crystals. What matters here is not only the form, but also the execution and the whole. Unfortunately, the English style does not like cheap plastic. For this reason, stylish English lighting is quite expensive, but undeniably perfectly complements any arrangement, increasing its value. What types of lighting is worth paying attention to and what elements can not do without a successful implementation?
Elements characteristic of lighting in the English style
We can not talk about the lighting in English style without a few elements. These include, inter alia, crystal and porcelain chandelier lampshades, which are very often enriched with additional sparkling crystals or whole strings of them. English style even loves bright, draped lampshades, which in a sensational way diffuse the light, creating a soft glow.
The base elements in the form of arms are usually metal, chromed or in the shade of brushed brass, and fancifully bent. Classic, white total looks are also common, especially when we talk about chandeliers and wall lamps. A feature quite characteristic of English-style lamps is their size, which can sometimes even intimidate, although this is not a necessary condition. Ceiling lamps and plafonds mounted in smaller rooms are often a little less ornate, but equally delightful.
When we think about interiors in the English style, we probably immediately think of elegant, rather large chandeliers with glass shades or fabric lampshades, and all this enriched with delicate additions, for example in the form of crystals. English interiors, however, love a pleasant glow, so often to the set we can also find wall lamps, often in the form of candlesticks, and table or desk lamps, which will further decorate any arrangement.
Of course, also the English style undergoes delicate transformations, thanks to which many manufacturers and designers encourage us to bet on refreshed forms of lighting made of metal and glass, enclosed in unusual shapes. And so, no one should be surprised by the English arrangement of a lamp in the form of a tulip or a lily.
main photo: unsplash.com/ClaireRendallDesign