You need about 4 min. to read this article.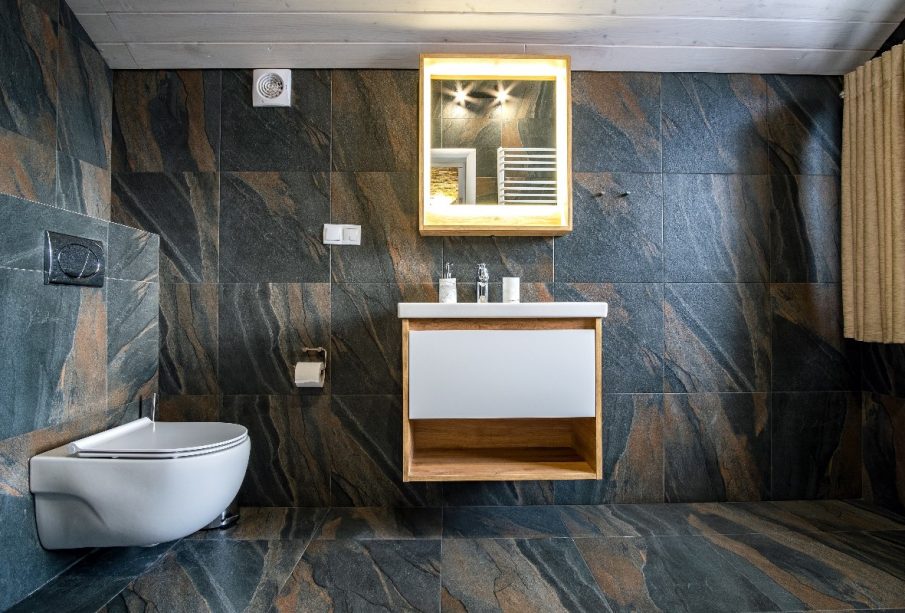 Art déco is a style in art, architecture and design that made its debut in France just before World War I. It combined modernism with the artistry of craftsmanship and rich materials. It shows inspiration from the bold geometric forms of Cubism. Are you dreaming of decorating your bathroom in this style? Check out our tips!
Walls
Marble is perfect for any bathroom, especially those designed in the art déco style. You can install white, grey, navy blue, emerald or black glossy marble tiles both on the walls and the floor. If you like original solutions, think about an elegant wallpaper in the art déco style. Make sure it is water, moisture and heat resistant. Look for products designed specifically for the bathroom. Black and white geometric wallpaper is an interesting idea for a bold interior in art déco style.
For a bathroom in a masculine climate fit perfectly black glossy tiles with copper details. They look chic and bold
Some ideas for a trendy interior
Do you dream about decorating your bathroom in the art déco style? Then we have some interesting suggestions for you. Choose black and white tiles inspired by Parisian metro from the Art Nouveau era for the wall. This way you will refer to the climate of the 1920s. A double console with a washbasin with a marble overlay and polished chrome legs will emphasize the decor of the bathroom. Geometric patterns reigned supreme in the 1920s
The marblefloor symbolizes a modern take on the classic art déco design. To emphasize the Art Nouveau character of the interior, opt for two modernist wall lamps with oil rubbed bases. They resemble Parisian lighting from the 1930s.
Luxurious wallpaper in art déco style
Spaces in classic art déco style combine luxurious materials and patterns. You can put a unique wallpaper on the walls in chiclet color. A white and black marble washbasin goes wonderfully with it. Brass knobs and faucets add another layer of visual decadence. This type of interior is known for striking chandeliers with bold, geometric shapes, and the minimalist ceiling fixture refers to the lighting typical of that era.
>> Check our guide: Art deco decorations – chic lamps and ornaments
Think symmetry
Symmetry was a key element of art déco style. So go ahead and choose a double washbasin or two identical mirrors. Look for geometric patterns. Vertical, elongated, skyscraper-style wall sconces on either side will also work well here.
Opt for luxurious materials
Marble or vitrolite, opaque pigmented glass, are perfect for an art déco bathroom. You can confidently choose these materials for both the walls and the floor. Mix them with reflective and highly polished surfaces. You can also match them with shiny chrome or nickel-plated fixtures, faucets and switches.
Marble surrounds are associated with luxury and comfort. It also provides ample space for stylish glass accessories, candles and elegant toiletries. Mirror panels around the bathtub are an original solution, although not necessarily practical in a steamy environment. You can replace them with a shiny glass mosaic.
What flooring to choose for an art déco bathroom?
Elegant flooring was one of the key elements of the art déco style interior. If you can't afford marble for financial reasons, opt for classic, monochromatic checkerboard flooring – tiles or vinyl tile. Also look out for materials available in geometric patterns such as herringbone, sun rays or hexagonal honeycombs.
Be bold!
Colorful bathroom sets in shades of mint green or yellow were fashionable in the 1930s. Most owners now would consider them old-fashioned rather than classic. However, consider whether such pieces fit your bathroom. If not, opt for black fixtures. This will show your guests that you are not afraid of unusual solutions.
If you are decorating a feminine bathroom, you can combine black mixers with pink tiles. Elegant, chrome faucet in the washbasin and patterned wallpaper are a great reference to the era. A striking mirror is a must-have item in any art déco bathroom.