Kitchen lighting – which solution to choose?
You need about 3 min. to read this article.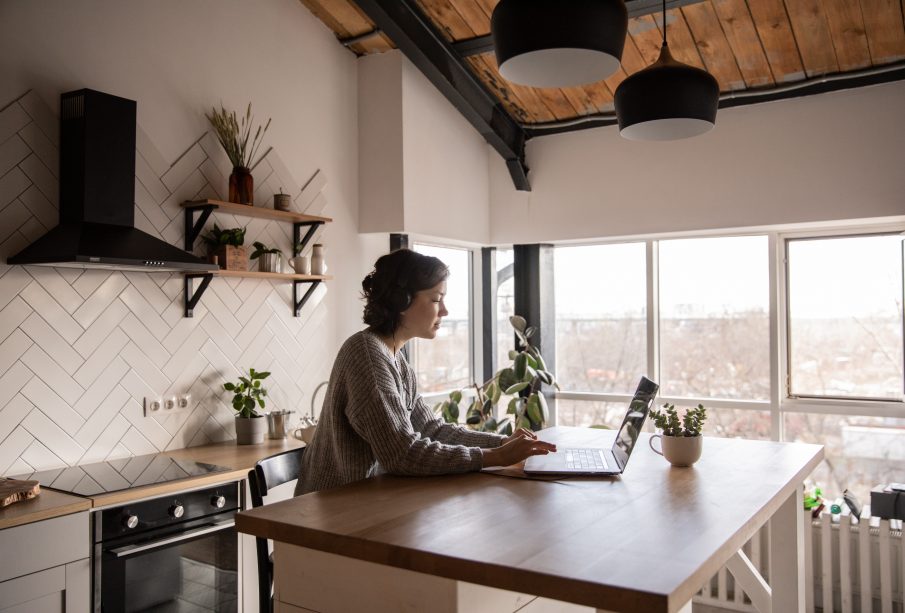 Lighting of the home is extremely important. It is responsible for the comfort, the sense of security, the atmosphere and the appearance of the rooms. In the kitchen, good light is needed not only for safety while preparing meals, but also for aesthetic reasons. See how to choose the perfect lamp or lighting system for your kitchen
Overhead lighting
The most popular type of lighting in Polish kitchens are ceiling lights. They're convenient, they illuminate the entire room well, especially if there's no window, and chandeliers for kitchens can be great decorations that hardly take up any space. When choosing a ceiling lamp for the kitchen, pay attention to how wide a beam of light it gives. Unfortunately, some lamp shades are narrow and opaque, so that the light is blocked and actually falls only punctually in one compact column, leaving the corners of the kitchen in semi-darkness. While in small kitchens such a solution still has the right to work, in more spacious rooms such a lamp will be useless
Led backlighting of kitchen cabinets
Kitchen cabinets hanging on the walls are present in virtually every kitchen. To illuminate this room, you can use led tapes, mounted just under such cabinets. Tapes with lighting can give a pleasant glow of warm light or effectively illuminate the entire kitchen, depending on what power bulbs you choose. This will also be perfect for kitchens combined with a living room, or so-called kitchenettes. Most of the light will fall into the kitchen space from the adjacent living room, and illumination with led tapes will give greater visual comfort. LED lighting is obviously an ecological solution and cheap by very high energy efficiency. Such illumination is unobtrusive, because the tapes are invisible at first glance. If you like subtle but effective solutions, choose this option
Side lighting
If you have a very large kitchen with plenty of countertops and free space, you can opt for softer and more romantic side lighting. Stand lamps and small lamps on the countertops will illuminate your Provencal or Shabby Chic kitchen perfectly. If you find it too cumbersome to turn on such lighting, you can screw smart bulbs into your lamps and turn them on using an app on your phone. Another option is to connect the contacts to which the lamps are connected into one system, controlled by ordinary light switches. This solution, however, will require the intervention of a very good electrician, because creating a well-functioning system is not a job for an amateur
Decorating the kitchen is quite a treat for homeowners. This is the room where most of the action takes place. It is where meals are created, the busy family meets for breakfast before leaving for work and school. It should be a warm and atmospheric place, but above all comfortable. When designing a kitchen, remember to keep the work triangle, which will make it easier for you to cook and clean up after preparing dinner. Lighting should be chosen in such a way that it decorates the kitchen and makes it look favorable. The place where you are surrounded by sharp knives, hot pots and boiling water must be well lit.
Main photo: EKATERINA BOLOVTSOVA/pexels.com