Total look kitchen – one color, many possibilities
You need about 3 min. to read this article.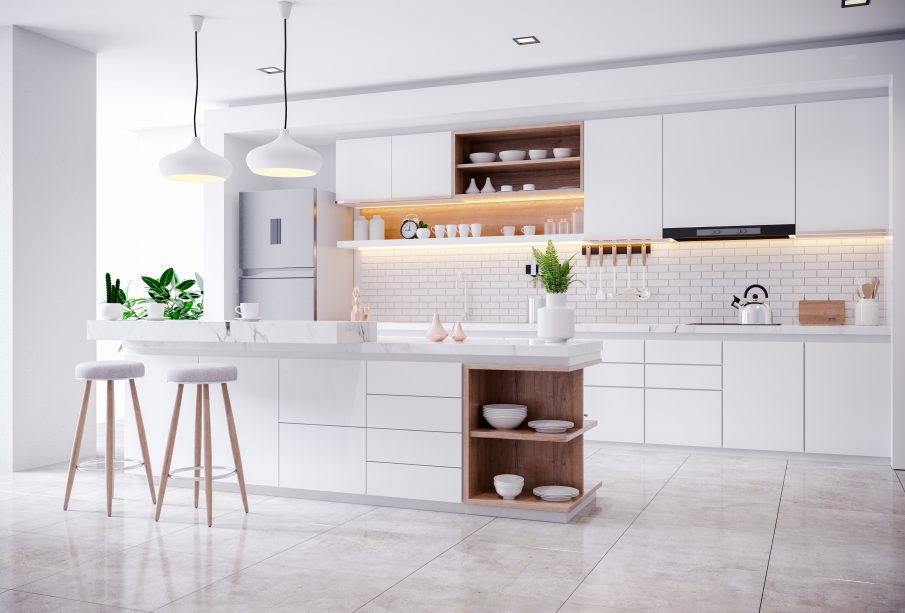 Kitchen in total look style does not have to be boring at all. It only takes a few additions to turn it into our pride. Here are a few ways to decorate your kitchen in one tone.
How to choose accessories for a total look kitchen?
Total look style is about creating a space consisting of elements in one shade. Unfortunately, many people think that such a space can be a bit boring. However, a few accessories or textures can make it possible to create a dream total look for our kitchen, which will look interesting and creative
If we choose one color of furniture, it's worth that the worktop – the second element, right after the fronts, that we pay special attention to – is in a similar tone. Thanks to it our kitchen can completely change its character
It is advisable to choose a marble or imitation marble countertop, especially if the cabinet fronts are smooth and glossy. Choosing a countertop, which will have interesting patterns arranged with veins, will give the kitchen a completely different character
It is also a good idea to play with textures and materials. It is worth choosing a wooden or wood-like countertop, in a shade similar to the kitchen fronts. It will stand out thanks to its texture and we will make our kitchen in total look style not boring and uniform
>> See also: Shaker style kitchen – see how to decorate it!
If we have the space for it, it's worth placing a table with chairs in the kitchen. Wooden furniture with a uniform color can be slightly distinguished from the kitchen by placing on them comfortable pillows in a similar color, with sewn applications. This will make the kitchen much cozier
It's also an interesting idea to invest in cabinet fronts with interesting openwork clearances. Some cabinets can be equipped with glass panels, thanks to which we can nicely expose our tableware or glasses. Such an element of Provencal style will certainly improve the look of the kitchen and make it feel more secluded.
Matt and glitter
Apart from playing with different shades and elements that slightly break from the overall style of the kitchen, you can also experiment with high-gloss and matte details. Many decorators make it a point to always choose a matte kitchen countertop when the cabinet fronts are high gloss. Conversely, when the fronts are matte, a glossy countertop, such as granite, is a better idea
You can also slightly change the look of your total look kitchen by choosing shiny accessories. Chrome faucet or silver lamps will make the kitchen more elegant. Try to choose elements that are similar in color and don't deviate from the total look kitchen concept.
Different shades
It's very important to choose elements for your kitchen that are different shades of one color. This way, individual decorations and furniture won't blend together but will provide interesting reference points. For example, it is worth choosing a floor in a warmer, slightly creamy shade of white, and kitchen fronts in a snow-white and cold version
A creamy shade will also go well with a white-painted, wood-like countertop. Such interesting solutions will allow you to create a space in one color, which will not be boring. Remember that small elements of a different color will not disturb the whole concept, if they are all kept in one style, for example silver lighting with metal cabinet handles. Thanks to them we will break the uniform shade of kitchen countertops and fronts.