Stone kitchen worktop – a touch of luxury in the home
You need about 4 min. to read this article.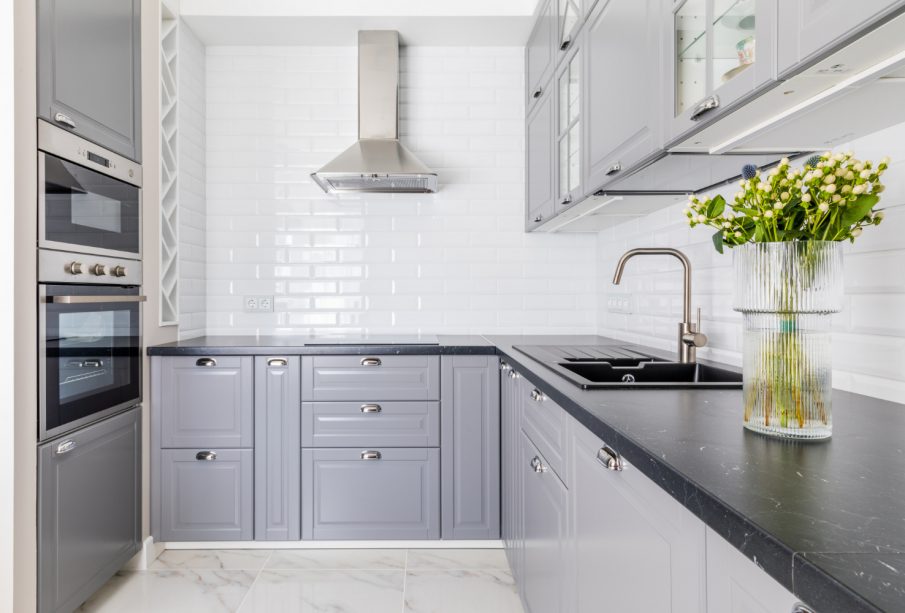 Stone countertop to the kitchen will give the room an elegant and refined character. In addition, it is a very durable and practical solution. It is on the worktop that we perform most of the work related to cooking and preparation of meals, so it is worth betting on a material that will be reliable. Natural stone is more and more frequently used in interior design, it is perfect as a stylish floor or exclusive tiles for walls. Check out what kind of stone will be the best choice, and how to care for such a countertop in the kitchen.
Stone countertop is a very broad term, because we can choose from more than 100 different materials; from granite, through marble, to sandstone. All of these materials are perfect as part of the kitchen building, because they are waterproof and durable. You can bet on classic colors such as white or black or choose a more patterned plate. It all depends on our idea for the kitchen.
Stone is not a cheap material but it is an excellent investment which will surely last for years. Marble or granite is rather used as an element of finishing floor or stairs, it is also often used in elegant and modern bathroom. More and more people are choosing stone countertop in the kitchen, giving up the trend of recent years, namely the countertop imitating wooden planks. Check what advantages and disadvantages stone countertops have
Stone kitchen countertop – everything you should know about it
Many people looking for the perfect countertop for the kitchen, think about choosing a slab made of stone. The most popular raw material will be granite, basalt, and the less popular porphyry. Those looking for more sophisticated materials can order a countertop made of marble or travertine, but this is not an ideal solution for the kitchen, because there is a risk that such a countertop will soak up water
Most stone countertops, however, are water resistant and perform well even when set at high temperatures. Some materials are also stain resistant, which is very difficult to avoid when preparing various dishes. Stone factories, with the help of the latest technology, can easily fit the shape and size of the countertop to our requirements, and also cut in it the necessary holes for a sink or an induction hob
Advantages and disadvantages of stone countertops in the kitchen
Advantages
Each solution has its own advantages and disadvantages, which are worth analyzing before choosing a countertop for your kitchen. A kitchen countertop made of stone will definitely be a safe solution because it is not a flammable material, and in fact it takes a long time to heat up. In case of carelessness, there is no worry that a spark will cause a fire in our kitchen. Moreover, it is a great solution when you decide to use a gas stove. Stone is a material on which we can cut food without fear of scratching it. It is a very practical and functional solution because we do not need cutting boards or pads for hot pots which can be placed directly on the surface of the countertop. Any scratches that may appear after years of use, can be eliminated by polishing them with a grinding stone
Disadvantages
Unfortunately, stone countertop is a heavy material, so this must also be taken into account when choosing kitchen cabinets, which should be solid and able to support the weight of the countertop. Natural stone is quite demanding material which needs to be cared for and regularly impregnated. Such a solution will also not work for people who love cozy spaces where there is no room for cold to the touch furniture. Kitchen worktop made of stone is not a cheap solution so it will be abandoned by those who value more economical kitchen finishing.