Closet in the bedroom – yes or no?
You need about 4 min. to read this article.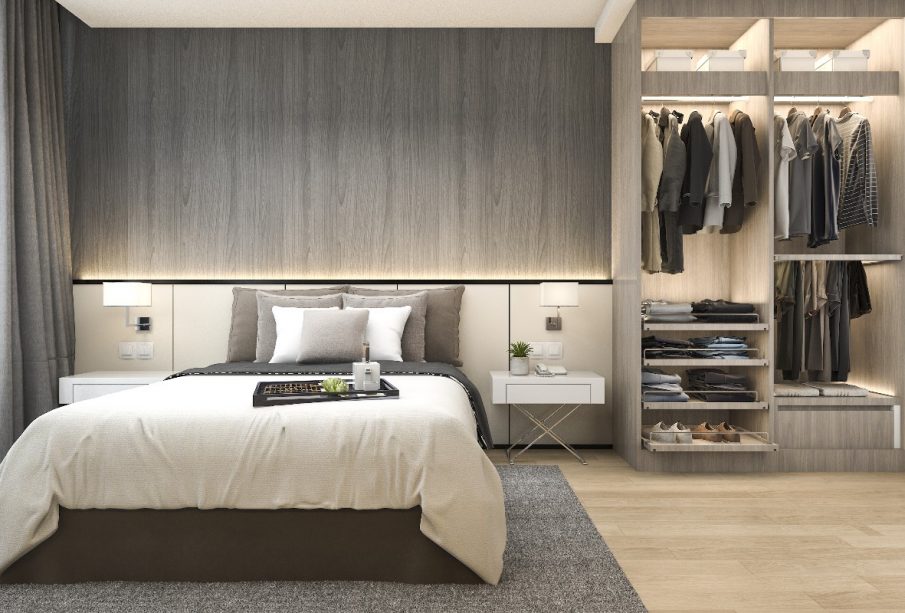 Closet is an important element in our house. In the American construction it is usually a separate room, but in Polish housing conditions this is not always possible. Let us find out what are the advantages and disadvantages of having a closet located in the bedroom
What are the advantages of having a closet in the bedroom?
A bedroom is associated with a huge bed and two bedside tables on the sides. However such a hotel style is not always a good solution, especially if you do not have a separate room used only for storing your clothes. To make the bedroom more functional, many people also arrange a closet in it. It has its undoubted advantages
First of all, bedroom is quite an intimate place. We can hide there things, which should not see daylight, including our clothes. In the bedroom we often change our clothes after a morning shower or evening bath, so creating a closet in it is a good idea, which will facilitate our everyday functioning. We do not have to waste valuable space for a closet in other rooms, where we have to fit a table, a coffee table and a desk.
The bedroom may be a good place to put all the furniture in which we will hide our clothes. Also, arranging things and looking for them later may be easier if all the parts of the closet are located in one room.
What are the disadvantages of having a closet in the bedroom?
The disadvantage of having a closet in the bedroom is that it will take up a lot of space, which we could use for example for a TV set or a bigger bed. Many people want to treat the bedroom as a space used for relaxation and placing a closet in it contradicts this idea. A bedroom will fit into this style, if we put a comfortable armchair for reading, together with a shelf for books. Unfortunately, with such arrangement of furniture, there may be no place for a closet.
Remember, that a well equipped clos et with functional drawers and hangers may take quite a lot of space, that is why placing it in the bedroom is not always a good idea. At the moment, when we have access to e.g. a recess in the hallway, it is better to place a closet in the form of a built-in closet in the hallway, so that it takes up less space. In this way we can store all the clothes we need in one piece of furniture.
How to place a closet in the bedroom?
A closet in a bedroom may be easily placed for example if we have one free wall or when we have an alcove. Thanks to it we can arrange not only a very functional closet with useful shelves, but also the whole space, where you will be able to change your clothes. A closet can also be a separate room, if we have one small and unused room in the house. This is a very good solution at the moment, when we do not want to look throughout the house for our clothes, or we are not fans of sliding closets
In such a closet we can place pavilions for bedding, as well as special shelves for shoes and rods for clothes, which we will hang on hangers. The closet can also be hidden behind sliding doors with a tasteful mirror, so it will be completely invisible. This is a great choice if you have a detached house and a large space at your disposal
A closet should be placed near a bedroom, thanks to which we will have easier access to clothes. Many people resign from a larger bathroom to arrange in one place not only the same dressing room, but also combine it with a laundry, which gives even greater comfort in its use and ease in separating clean clothes from those already used. Such solutions are designed for families with many children, in which every space must be used, and many dressers or closets take up a lot of valuable space.