Bathroom with silver and shiny tiles – how to decorate it?
You need about 4 min. to read this article.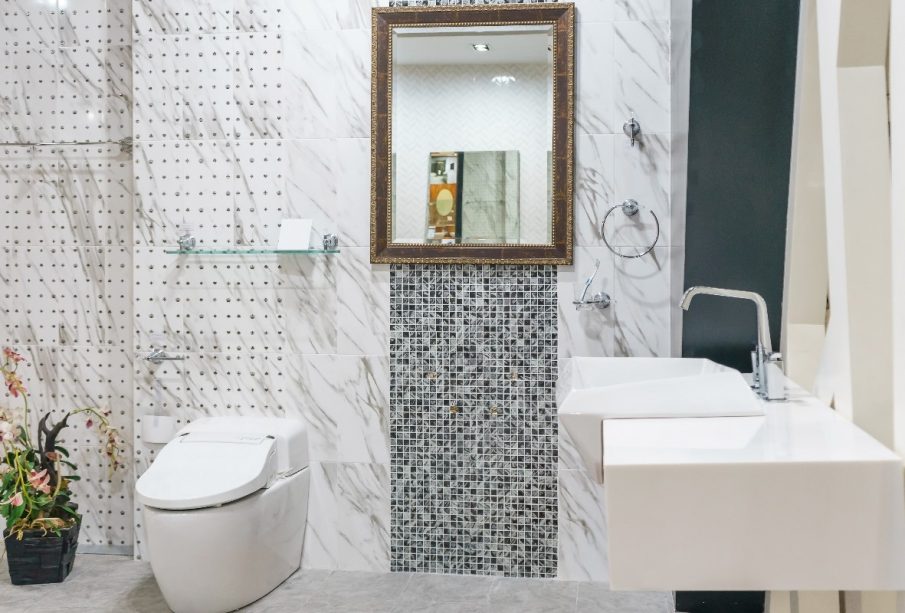 A real boom for metallic colors has appeared not only in fashion, but also in interior design. Bathroom with silver and shiny tiles can be particularly impressive. However, you need to get down well to creating such an arrangement. Some things are particularly important – we remind you of them.
Metallic shades in the bathroom: where to use them?
The metallic structure of bathroom tiles is certainly characterized by originality. It will attract the eye much more than typical floor or wall tiles do.
For whom are tiles with metallic sheen?
Such stylization in the bathroom, especially if it occupies a larger part of the wall space, is recommended rather for people who are demanding and always looking for new solutions
Metallic shades will not match every interior
The problem is that such a distinctive element of the arrangement as silver tiles, will not fit into every interior. It is most recommended to use metallic tiles in spacious bathrooms with plenty of natural light. This applies especially to such interior design ideas, where the floor and walls are covered with the same material
Where to lay silver and shiny tiles?
Despite the glossiness, it is recommended to use them in rather minimalist rooms. A small number of simple furniture, geometric shapes and a certain austerity of the interior are most advisable. It is also worth trying to use silver and shiny tiles for bathroom arrangements in different colors – even black or gray
Silver and shiny tiles: types
On the market we have available different types of silver tiles suitable for laying in the bathroom. As a rule, their prices are slightly higher
Tile shapes
There is a lot of freedom when it comes to choosing the shape and size of silver tiles with a shiny texture. Examples include:
small mosaic tiles – they look beautiful when you cover the entire wall in a spacious bathroom with them; it is good if it is the wall right behind a free-standing bathtub;
honeycomb tiles – they look great when silver and shiny tiles are used to break the color scheme; their advantage is the shape, which allows not only to cover the whole wall, but also to decorate it with just a few tiles;
convex tiles – they can be formed from smaller squares, meshes or waves, which cover the surface of the tile; it is an interesting, slightly abstract choice;
rhombus-shaped tiles with clearly defined texture and triangles cut off on its surface.
What to combine silver tiles with?
More or less silver in the bathroom
There are two main approaches to shiny and silver tiles: They can be used as a counterbalance to other colors or treated more prominently. Then, however, you need to be careful with the dosage of the cool impression created by them, which will not suit everyone. As a rule, it is suggested:
silver tiles in bathrooms with unified colors with a predominance of various shades of gray;
use silver tiles in bathrooms with contrasting colors; in this case, you can use silver tiles as a counterbalance to the very trendy bottle green, but also to navy blue or black;
using tiles only around the washbasin and the mirror hanging above it.
It is important to keep moderation
It is important to choose shades skilfully, because silver is not a uniform color. It is already present in the interior for example in mirrors, dispensers and taps. If you are not completely convinced with the arrangement with silver and shiny tiles in the bathroom, then do not be afraid to turn with this problem to a professional dealing with arrangement of bathrooms. The chosen material is impressive, but also difficult to plan its presence in the interior.