Scandinavian living room accessories – natural and minimalist
You need about 4 min. to read this article.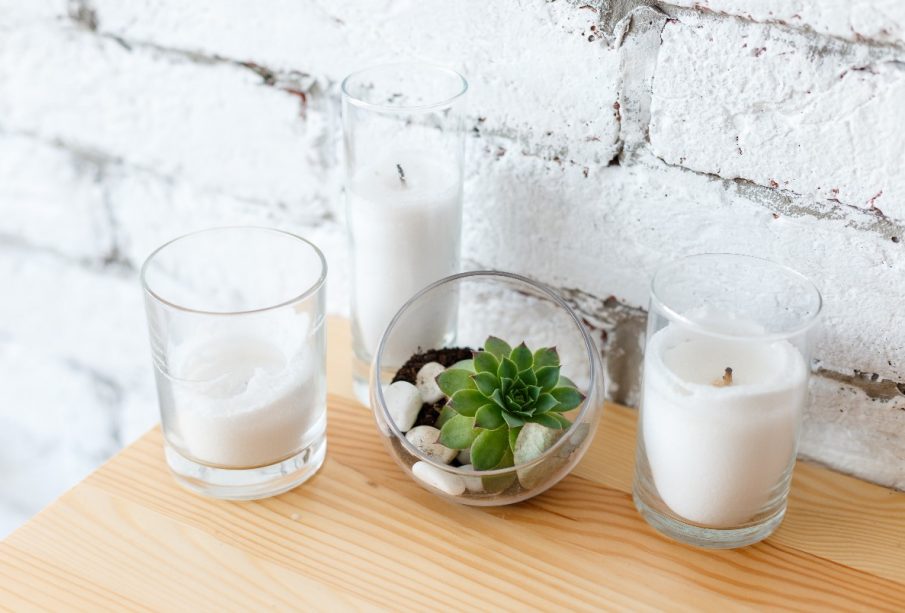 Soft cushions and rugs, blankets and throws, plus lamps, candlesticks, wall clocks and wooden accents. We suggest decorations that will give a cozy character and complete a living room kept in Scandinavian style.
What are the characteristics of Scandinavian style?
For many years Scandinavian style is one of the most popular, which we use in our interiors. It is full of references to nature and the surrounding world – mainly wood, but also stone, cotton, linen or jute. Everything respects the environment and additionally has good influence on people suffering from allergies (artificial fabrics collect more dust and allergens).
Colors are bright – whites, greys and beiges – optically enlarging the space and giving a feeling of freshness. It is broken by ubiquitous wood and accessories made of soft and pleasant-to-touch materials, as well as by numerous sources of light (the brighter the house, the better) and geometric patterns. It is a perfect base for various arrangements – many accessories go with neutral colors and furniture.
Scandinavian style is perfect for both large and small spaces. It is very universal and practical. All the furniture and accessories are functional and allow for harmony. We've chosen some decorations that fit perfectly into this aesthetic.
Soft cushions and more
You can't go wrong with textiles in your Scandinavian living room – soft cushions, blankets and throws. Of course, they are made of natural materials, namely cotton, wool or linen, which are also warm and nice to the touch.
>> See: What carpet for a Scandinavian living room?
Cushions can be square or round, large or small, colorful or patterned. Popular are forest floral motifs, printed inscriptions, animal outlines (especially wolves, deer and owls), geometric swirls, but also typically Norwegian patterns, which will be perfect for the autumn and winter months.
Such textiles are the perfect color accent against a subdued color palette. A blanket will look beautiful thrown on a comfortable armchair (a popular one is the so called "uchak"), while pillows will decorate the sofa.
Soft carpet
The seating area of your living room will get a cozy feel not only from the aforementioned textiles, but also from a cotton, wool or jute rug. A fringed cotton rug, for example, will go well with a coffee table. You can have one minimalist rug in your living room, but Scandinavians often combine several next to each other, even if they differ in pattern or color.
Lamps and lanterns
Scandinavian style is very illuminated. Light sources should be at least several – one chandelier in the middle of the living room is definitely not enough. Depending on the size of a room, we can put a floor lamp – here lamps on tripods with white shades became cult – or smaller table lamps, kept in pastel colors, with wooden, wicker or woven elements.
It is also worth to pay attention to lanterns and candlesticks placed in various places, for example on a dresser or a windowsill. Their form is usually quite conservative, minimalistic, without exaggerated decorations.
Wall clock
A very elegant and practical addition to a living room maintained in Scandinavian style is a wall clock. Simplicity is power, so it should be functional, without unnecessary ornaments, but at the same time effective.
Wall clocks are an elegant and tasteful element of living room decor, and their large size makes them very decorative. They are often the only decoration that appears on a given wall.
Scandinavian style wall clocks can be wooden, cardboard, openwork, black, gold or silver or a classic combination of black and white. It all depends on what we like and what will look best in our home.
Wooden accents
There's a reason why wood is synonymous with Scandinavian style. Wood can be used for flooring, legs of sofas and armchairs, lamp frames, tables, but also various accessories, such as the mentioned wall clock. An interesting decoration of a living room will be wooden shelves in geometric shapes (e.g. hexagon is fashionable) or deer antlers. Additionally, such antlers may serve as an original hanger.