What kind of rug for a Scandinavian living room?
You need about 4 min. to read this article.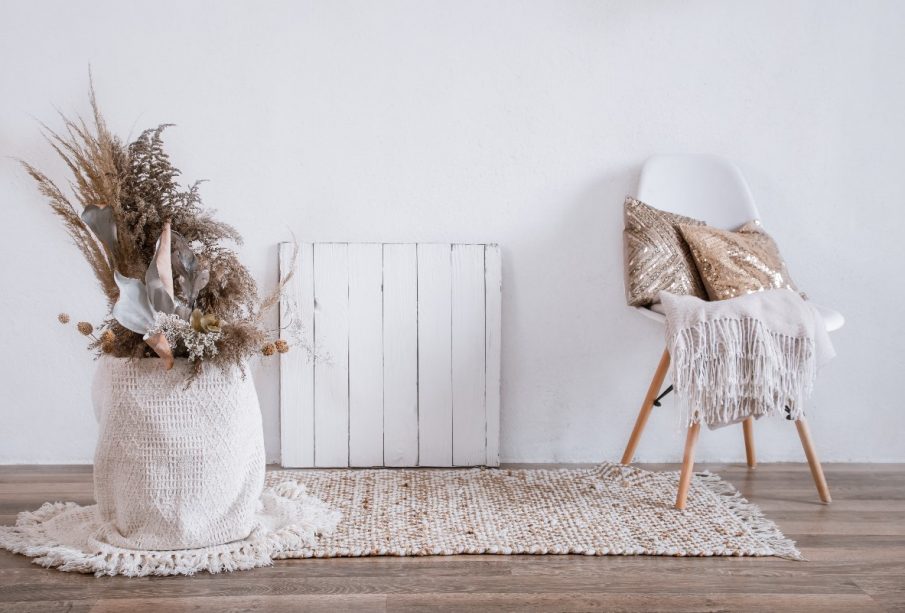 When designing your interior, pay attention to the Scandinavian style. It enjoys enduring popularity throughout the world. It is known for its soft, uniform colors, open space and minimalism. Accent elements and decorations play an important role here. Check out how to choose the perfect rug for your Scandinavian living room!
Neutral color palette
Scandinavian living room rugs are characterised by minimalist designs and neutral colors. They stand out for their simplicity and practicality. When it comes to color, ivory is king, but you'll also find dark blue and light grey rugs
A thin, light-grey rug goes well with a white sofa and a round black coffee table. A cream wool rug, on the other hand, pairs well with a light gray sofa and a white coffee table with wooden legs.
When designing an interior in Scandinavian style, reach for a neutral color palette. It mainly includes various shades of white, gray, beige and pink. However, it is worth noting that the mentioned decor is not boring at all. You can liven it up with colorful accents. Choose dark pink or gray-blue
>> See also: Wood and Scandinavian white – a perfect pair!
Fashionable rubbing and discoloration on vintage carpet reduces the effect of sterility in the rooms. So it works perfectly in the Scandinavian living room. Visually warms the interior, while giving it a unique character
Stylish and practical carpets
Very popular are models made of sheep wool. They provide high comfort and meet the needs of even the most demanding customers. They are usually kept in one color. Sometimes manufacturers decorate them with a subtle pattern. They choose geometric shapes, thin lines or basic forms. When buying a rug, also pay attention to the material and texture. Interestingly, even if it has one color, it is often knitted in a way that gives it a unique character.
The main element of Scandinavian style decor is the wooden floor. It is rare to see rugs here that stretch from one wall to another. Therefore, look for a relatively small rug. It will enhance the unique character of the interior without being distracting
Hand-knotted r ugs are an excellent choice. They stand out for their high quality. If you like style and comfort, you'll love them. They go beautifully with minimalist decor
Which carpet to choose for Scandinavian style interior?
Scandinavian interiors are characterized by minimalism, simplicity and functionality. Although the mentioned style appeared in the mid-1950s, it still remains a popular trend in home design.
Scandinavian design places great emphasis on functionalism and simplicity, and natural materials such as leather, wood and hemp reign supreme. Rugs made from pure cotton are also very popular. The natural material combined with muted colors creates a cosy atmosphere. Walking barefoot on such a velvet rug will only strengthen our conviction that the Scandinavians are 100% right here.
Practicality is a key element of Scandinavian interior design. So look out for a low-pile rug that you can clean easily. The silicone padding of cotton rugs also impresses with its functionality. You no longer need to buy additional non-slip pads
One cannot fail to mention the Scandinavians' love of ecology and recycling. This is obviously reflected in the interior design. Such materials as paper, cotton, wool and wood dominate here.
Why buy a woolen carpet for the living room?
A luxurious, soft-to-the-touch wool carpet provides comfort all year round. It does not shift, provides excellent sound absorption and thermal insulation properties. Wool fiber is naturally twisted, so when crushed it returns to its original shape. What is important, it does not accumulate dust mites and bacteria
It also does not emit harmful gases. A woolen rug naturally improves indoor air quality. It stabilizes relative humidity, absorbs or releases it when necessary. If properly cared for, it absorbs and neutralizes airborne particles and fumes such as formaldehyde, sulfur dioxide and nitrogen oxide. It also doesn't attract lint, which makes vacuuming it much easier.