Corridor in a detached house – arrangements
You need about 3 min. to read this article.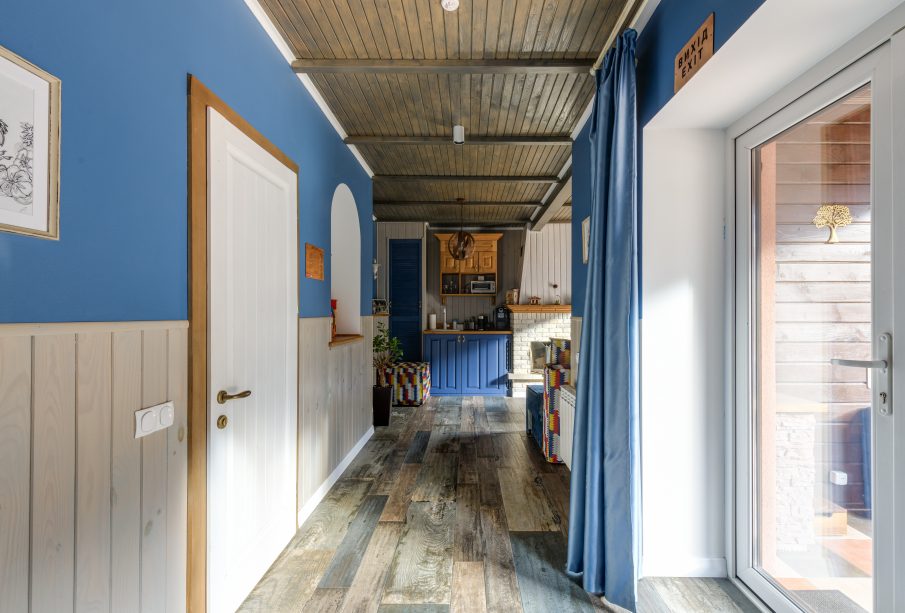 Decorating the corridor is not an obvious task, especially for a long and narrow space. How to furnish the corridor to be functional and aesthetically pleasing? Here are some arrangements that may inspire you!
The space at the entrance to the house welcomes householders every day, and from time to time also guests. So it should be comfortable, functional and well presented. After all, it is the corridor that will be responsible for the first impression of the interior. How to arrange it so that it fulfills all the above functions? Let's take a look at some inspiring ideas for arranging the corridor in a detached house.
Console, hanging mirror and decorative lamp
Console in the hallway
In case of a small space, these three elements are enough to arrange it effectively. An elegant console will be here the main piece of furniture, which can be decorated with flowers, photo frames or decorative figurines
Mirror in the hallway
A hanging mirror will look perfect over the console. Thus, we will manage the space on the wall of the corridor and gain a functional and practical object – probably everyone likes to take a look at himself before leaving home.
Decorative hanging lamp
An element that will give special expression to the space at the entrance to the house will be a decorative hanging lamp. In this case, let's not be afraid of rich ornaments and large sizes – the corridor is a place where a large amount of light will certainly come in handy. Impressive lamp will add charm to this small space and will look phenomenal.
Corridor in glamour style
If we like shiny glamour style, we can with the help of a few suitable elements arrange our corridor in this convention. To create a successful composition does not necessarily have to spend a fortune. Properly selected furniture and accessories will give us the desired effect.
Upholstered bench in the corridor
An element that is unquestionably associated with the glamour style is an elegant upholstered bench. Those with additional decoration in the form of shapely armrests or shiny legs in gold or silver will additionally emphasize the intended effect.
A tall wall mirror
Next to such a bench it's good to place a decorative, large-sized mirror. In addition to its practical function, the mirror will optically enlarge the space and add some shine to it. Decorative frame and additional illuminating elements are what we need, arranging the corridor in the style of glamour.
Neat chest of drawers in the hallway
Functional furniture, which will be useful in the space at the entrance to the house, can be an elegant dresser of small size. In addition to its practical function, a well-chosen dresser will be a decorative element and effectively fill the space
Built-in closet with upholstered element
If, while decorating the corridor, we care first of all about functionality, it is good to bet on a built-in closet, which will block most of the space of the corridor. In this way we will gain a large amount of space to store the necessary things and successfully develop the area at the entrance to the house.
To provide a place to sit, which will certainly come in handy, we can opt for upholstery – a selected section of the wall together with a seat upholstered with an aesthetic material will fulfill its function and add some visual value.
Main photo: Max Vakhtbovych/pexels.com