Kitchen for one wall – see inspirations!
You need about 4 min. to read this article.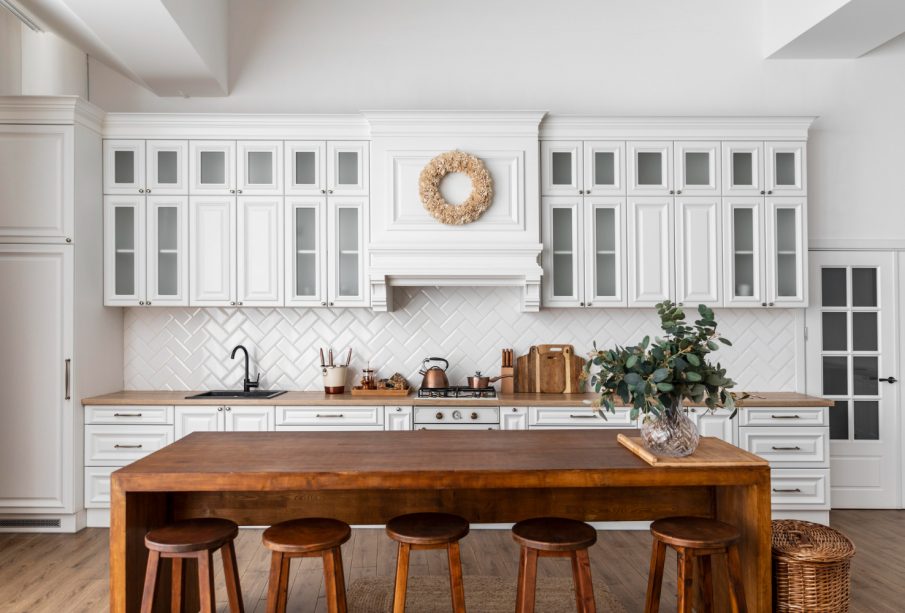 One-row kitchen is a solution often found in smaller and larger interiors. Which single-wall installation is worth choosing to make the room functional and stylish? Let's find out!
When is it worth choosing a single row kitchen?
A one-row kitchen is a good choice when you have a long wall to cover. It's a good choice if you have a long wall and can place the cabinets and appliances in one line. This simple layout is very practical and also works well for an open-plan living area when you want to connect the kitchen with the living room. Then it's worth taking care that the kitchen furniture is consistent with those in the living area.
Grey single row kitchen
The first suggestion is a single row kitchen with light grey fronts. Attention is drawn to the upper cabinets, which have mirrors, and beautiful white tiles with black contrasting veining. Thanks to such treatment the kitchen looks extremely stylish and elegant, optically enlarging the interior
Well-planned so called working triangle makes preparing meals in this kitchen very comfortable. This minimalist kitchen, sparing in accessories (there are no handles or decorative milling), will go well in a house or apartment inspired by modern, classic or even glamour style
Black and brown single row kitchen
Equally delightful is the single-wall kitchen development in a very fashionable color variant, which combines black and brown elements. Upper cabinets with black, matt fronts without visible handles are a harmonious duet with the lower part of the development made of natural wood in a warm shade. The whole is completed with a granite, thin worktop and sink recessed into it. Such a kitchen will ideally fit into a loft style room.
Single row kitchen in beige
Lovers of classic with a touch of luxury will be delighted with another single row kitchen, which is kept in a neutral, light color palette. Beige is the king here, in various versions. High-gloss finish of kitchen fronts and tiles over the countertop give the whole an elegant expression.
Attention is drawn to numerous drawers, which are a very convenient solution. Cabinetry up to the ceiling makes it easy to fit all cooking and other accessories in this kitchen.
Navy blue and brown single row kitchen
Navy blue is one of the trendiest colors, right next to bottle green. However, it is worth remembering that it is not a good choice for a dark kitchen. A great compromise would be a kitchen with navy blue cabinets at the top and light brown cabinets at the bottom
Deciding on such a combination, we don't have to fear that the room will give the impression of gloom and sadness. Tiles with patchwork motif and white countertop will additionally brighten up our kitchen. Such a modern, beautiful installation will work both in a studio apartment and at home.
Green single-row kitchen
The last option that may inspire those who want to install a single-row kitchen is an original, small installation with green-colored cabinets – an ideal option for investors who like to stand out and feel good in minimalist interiors. An interesting solution is the complete resignation of cabinets above the countertop. Instead, we can use black, metal shelves inspired by loft style. The black hood serves not only a practical but also an aesthetic function. Such a small, simple kitchen would work well in a studio apartment for rent.
In conclusion, a single-row kitchen unit works well in both an open-plan and an outdoor kitchen. It is a solution that can be used for smaller or larger areas. If our budget allows it, it is worth using the help of an interior designer, who will give us valuable advice, thanks to which our kitchen will be functional and comfortable.
Main photo: freepik.com