Ideas for decorating a modern restaurant
You need about 4 min. to read this article.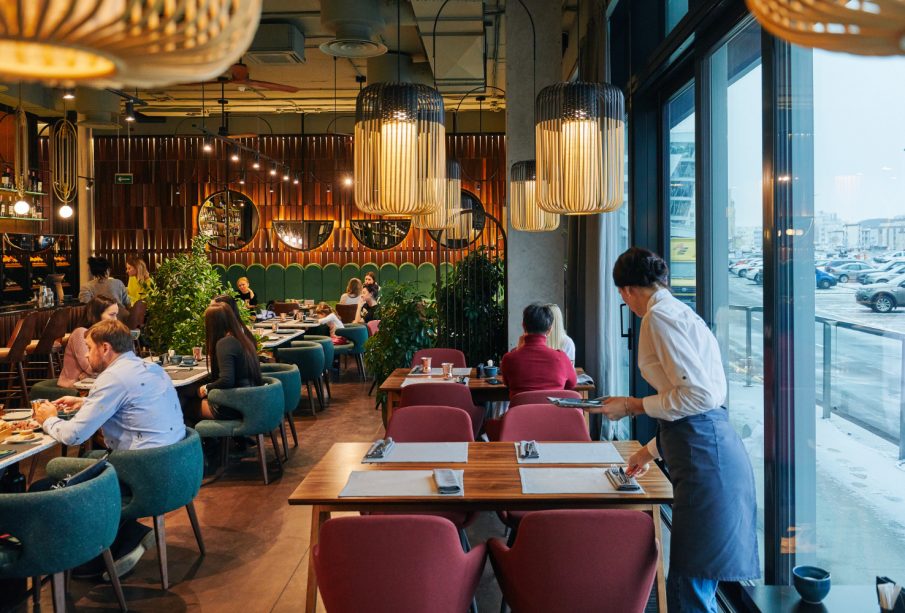 The key to a successful restaurant is not only well thought-out advertising, interesting menu and good location, but also original and functional interior. The combination of each of these issues will increase your chance of success, but today we will focus on the last of them. We advise you what to pay attention to when arranging the interior of your pub.
Dinner in the dark?
Unless you plan to serve dinner in the dark, proper lighting will be a key element of your pub's design. After all, no matter how good the furniture you choose or how interesting the paintings you put on the walls, if you do not take care to place the lights thoughtfully, the décor will lose its value. It is important that the lighting in the restaurant hall is warm – thanks to this the eyes of guests and employees do not get tired too quickly, which will have a positive impact on their well-being. A much better idea than a single, powerful light source will be spot lights such as spotlights, wall sconces and standing lamps.
Live cooking
More and more often restaurant owners decide to have an open kitchen, i.e. to reveal the secret of the cooking craft to the guests. Show that you have nothing to hide and you're not ashamed of the quality of your ingredients or the state of your kitchen equipment. At the same time such a solution emphasizes the conviction that the meal was prepared just for this particular customer, and that is the most important thing. Nothing matters more than making each guest feel special in your restaurant
When deciding on an open kitchen, you need to pay special attention to how you decorate the space. Guests want to see a neat and modern space where the cook feels comfortable. It is quite a challenge to furnish a restaurant in this way, but the effort is worth the result. Every customer will look at the work of the chefs with curiosity, and you will enjoy high occupancy. If you are planning an open kitchen, take a look at the offer of professional stores with catering equipment, such as https://horecapolska.pl/akcesoria-do-lodu-kostkarki. There you will find top-notch equipment such as ice cubes (indispensable not only for drinks, but also in everyday kitchen work), modern stainless steel furniture or functional refrigeration equipment.
Less is better?
If you are looking for ideas for decorating a restaurant in a modern style, it is worth to stop and think whether you really need another vase of flowers and a painting on the wall. Often less is more and in many interiors it is the minimalism that best reflects its modern character. After all, you don't want your guests to feel overwhelmed by trinkets and unable to focus on their meal. Opt for muted colors, such as whites, blacks and grays. Don't be afraid of large format tiles on the floor, which can work even better than wooden parquet in a restaurant – it will be easier to keep them clean. An interesting complement to such interiors will be large mirrors, which, unlike paintings, will not overwhelm the room, but instead optically enlarge it.
Look for inspiration around you
On the Internet there is no shortage of ideas for arranging a restaurant, but it is also worth looking for inspiration in everyday life. Very popular are restaurants modeled on cult movies and TV series, which take guests directly to their favorite fictional world. It's also good to look around and pay attention to the location of the restaurant. Often the mere fact that the place is located on top of a skyscraper or in a historic district is enough to build an amazing atmosphere around it.