Gold accessories for the bathroom – get inspired!
You need about 4 min. to read this article.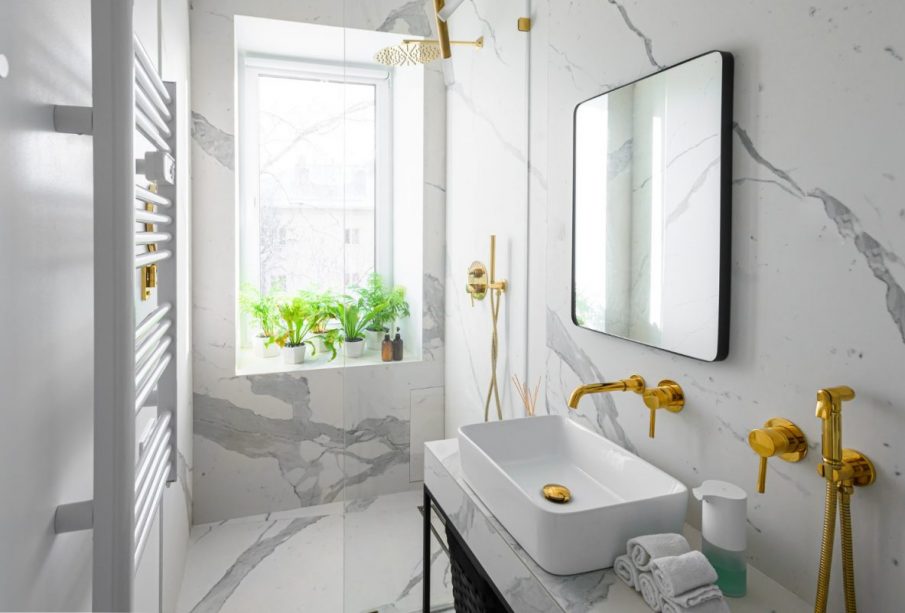 Considered a royal color, gold is a very fashionable bathroom shade. However, accessories in this color look the best. Let us inspire you with gold accessories for your bathroom.
It is a noble and dignified looking shade, so it is not surprising that we like to choose gold accessories for our bathrooms. It is worth knowing that gilding brings a touch of elegance to the arrangement of a given room, although it is often identified with quite bold and heavy stylization. That is why it is necessary to skilfully choose accessories, especially to the style in which the bathroom is arranged, in order not to create the effect of kitsch. After all, it is very easy to fall into exaggeration.
Expressive color accent. Gilding the bathroom
Gold is a shade that can be an original break from boredom in a given room or a subtle addition. It depends on us how we will fit gold accessories into the whole bathroom arrangement. The key to a successful interior is nothing else but balance in selecting golden accessories with the color of the room and its style
Golden accents go well with white, but also with white intertwined with black accessories – then golden accessories perfectly combine these two opposing color poles. In furniture stores, including online ones, we can find plenty of decorative accessories for bathrooms in this color. Golden bathroom elements also look interesting in combination with marble tiles. Compatibility of marble, black, white and gold elements is a bold proposition for those who like to experiment.
What gold accessories to the bathroom are worth betting on?
If you haven't dealt with gold accents before, it's worth starting from minimalism in this matter. A good idea would be to buy a golden basket for bathroom accessories, or a holder for toilet paper and a toilet brush. We may also bet on a gold bathroom faucet and a gold mirror frame.
A metallic color should not dominate our bathroom because then, we can achieve the opposite effect to the one intended and we do not want to overdo it. Usually, chrome and platinum reigned in a bathroom arrangement, mainly its fittings, but such finishing of equipment started to be considered too clumsy. Slowly people started to abandon it. They were replaced by gold-colored fixtures, which add a touch of luxury to the interior.
Gold accents fit almost every style of decor. From modern, where golden additions are an interesting break of rather heavy sterility, through industrial (loft) gold accompaniments accompanied by brick, steel and copper, even to retro and minimalistic styles, where (as long as it is not in excess) metallic color will add old elegance and charm.
We can also bet on bathroom tiles with gilding. Admittedly, it is quite a bold move if we want to use golden color on the wall. However, if we give a natural base of basic colors (we recommend those from the earth palette), then a combination of brown or beige with gold accents will come out really well.
>> See also: 10 ideas for a glamour style kitchen
Shiny bathroom furnishings
Nowadays, especially in the contemporary design style in bath rooms, we can bet on wire decorations and minimalist accessories in golden color. An original accessory will be, for example, hanging industrial lamps with glass shades or designer gold flasks.
Gold accessories in a modernistic version will be interestingly composed with a free-standing oval bathtub, very fashionable in recent seasons . These contrasts will result in a coherent, interesting-looking whole. In the space with a touch of luxury for sure we will relax after a hard day, we will be able to take a hot, aromatic bath among lit candles.
Regardless of whether we "gold-plated" the bathroom in a retro, contemporary, industrial or minimalist style, gold accessories will look spectacular.