You need about 3 min. to read this article.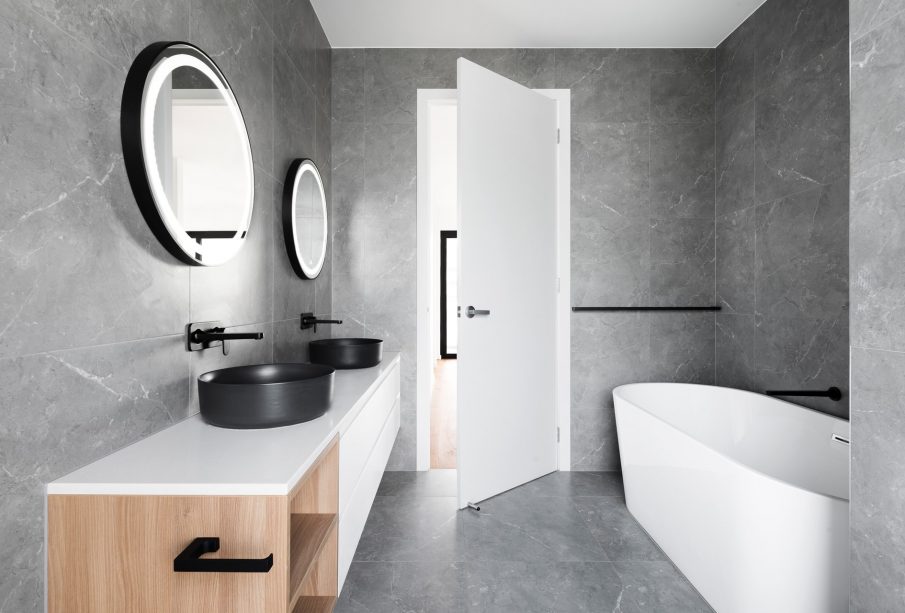 A wooden countertop is a must-have for any loft-style bathroom. Here are some examples of inspiring interiors where a solid, natural wood worktop takes centre stage!
What kind of wood is best for a bathroom worktop?
The bathroom is one of the so-called wet rooms – moisture often appears in this type of interior. Which species of wood will work well in the bathroom, despite contact with water, risk of scratches and mechanical damage? The ideal raw material will be exotic wood, which due to the presence of natural oils and silicic acid is characterized by greater strength and hardness. This can be, for example:
merbau,
asian acacia,
teak,
american walnut,
rosewood,
american walnut.
Of course, nothing prevents you from buying a countertop under the sink from native species of trees. In this sanitary room will work, among others, oak, ash, cherry and beech. How to arrange a loft-style bathroom with a wooden countertop in an interesting way? Here are the most interesting ideas.
Industrial bathroom with wooden top
The first proposal is a loft bathroom in the attic with a beautiful, thick wood countertop that "hangs in the air". Thanks to a small white washbasin, we have quite a lot of space on the countertop, which is certainly convenient during morning or evening grooming in front of the mirror. An interesting solution is using black metallurgical steel instead of tiles near the washbasin
Industrial character of the interior is emphasized by a lamp – actually, just a (decorative) bulb without a lampshade and tiles imitating concrete. Plants slightly warm up this austere room and perfectly fill empty nooks, freely surrounding the free-standing bathtub
Loft style toilet – wood countertop and round mirror
Another interesting idea for fans of industrial atmosphere is a toilet, which combines the spirit of minimalism and loft solutions. Attention is drawn by simple, wooden countertop, which occupies the entire length of the wall. Small, round mirror is completely sufficient in the toilet.
Black washbasin ideally emphasizes beauty of natural material, from which tabletop was made – a clever procedure is its additional illumination. Below, the architect placed a black cabinet, in which we can hide our cosmetics. Grey tiles are reminiscent of factory halls and are easy to keep clean.
Loft bathroom with wooden countertop and stone washbasin
A great representation of loft style is also this interior – the bathroom combines raw gray and warm brown. A strong accent is a wooden countertop under the washbasin, supported by a steel profile. The same kind of wood was used to make a beautiful frame for mirror, which at the same time serves as a shelf.
Wood motif is also present on the ceiling. The stone washbasin is very interesting, referring to nature. Its graphite color corresponds to the color of tiles used under the shower. The lack of a shower tray and the almost imperceptible glass surface instead of a shower enclosure fit perfectly in this unusual bathroom.
We hope that with our ideas, you'll be happy to give your bathroom a makeover by installing a solid wood countertop that will be an investment for years to come. If you are still lacking inspiration, consider enlisting the help of an experienced professional to arrange the industrial bathroom of your dreams.
main photo: R ARCHITECTURE/unsplash.com