You need about 3 min. to read this article.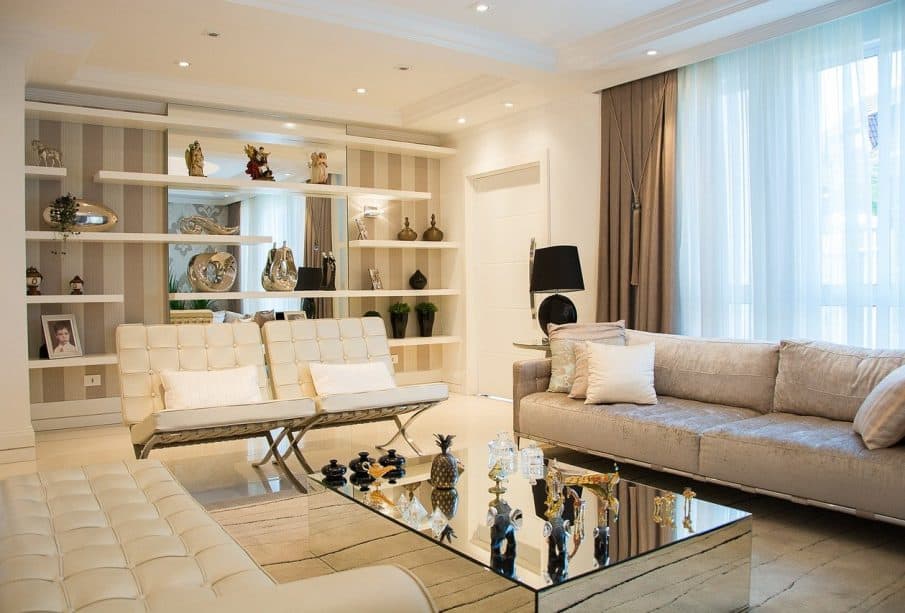 The luxurious art déco style flourished in the crazy 1920s, but even today it will successfully find its way into modern interiors. What are its characteristics? We suggest how to decorate a house in art déco style.
Art déco style is the quintessence of elegance and luxurious chic. Its term comes from the French language and literally translated means decorative art (art decoratif). It applies not only to interior design, but also to architecture, design, fashion and fine arts. Although it may seem chaotic and exaggerated, it is based on certain key principles and fundamentals.
Art déco style – characteristics
In the style in question, geometric shapes played an important role. In the interiors maintained in the art déco style you will find a lot of square and rectangular forms, as well as straight lines. The trend, which had its origins in the interwar period, emphasizes beauty in everyday objects, while paying special attention to their functionality. On the one hand, art déco interiors are full of splendor, while on the other, they are filled with comfortable furniture with simple forms that promote relaxation.
The art déco style is created primarily by elegant, dark colors, such as:
burgundy,

purple,

emerald,

navy blue,

black,

brown.
However, it is not lacking in whites, grays and light beiges, which form a neutral base for geometric furniture and decorations in intense colors. Gold, silver or copper often dominate the accessories.
Materials are also important in the art déco style. If we would like to decorate our home in this style, we should choose velvet and satin textiles, for example, curtains and bedding. For shiny materials, the contrast will be marble countertops, metal furniture elements and leather (synthetic) or velour upholstery of sofas and armchairs. The most characteristic patterns are geometric prints, but there is also no shortage of floral and animal motifs, which look most beautiful on wallpaper or pillows.
How to arrange interiors in art déco style?
Decorating your home in art déco style start with the floor. This style is characterized by flooring, which is often made of marble. For a modern look, you can bet on microcement. If you are a fan of more traditional solutions, opt for a wooden parquet floor, which will look good with sofas in strong colors.
Also think about the finish of the walls. Patterned wallpaper or dark paint will be the perfect backdrop for simple furniture made of lacquered wood. In turn, walls stroked with paints of neutral colors will go well with richly decorated dressers, marble tables, crystal chandeliers and gold accessories. Elegance will be added by copies of famous paintings, which were created in the interwar period. At that time Polish painter Tamara Lempicka led the way in art, so it's worth finding prints referring to her aesthetics.
Art déco furniture is distinguished by solid workmanship and materials of the highest quality. Most often they are made of wood covered with glossy veneer or precious stone, such as marble and glass. They can have a simple form or be massive. In art déco interiors, lighting is also magnificent. Decorative chandeliers, lamps with avant-garde lampshades and gold accents, and tall standing lamps are king.
What accessories will emphasize the charm of art déco interior? It is certainly worth betting on mirrors in richly decorated frames, silver or gold vases, numerous candlesticks and decorative platters and trays.
main photo: pixabay.com/leemelina08