Grey kitchen – one shade, many possibilities
You need about 4 min. to read this article.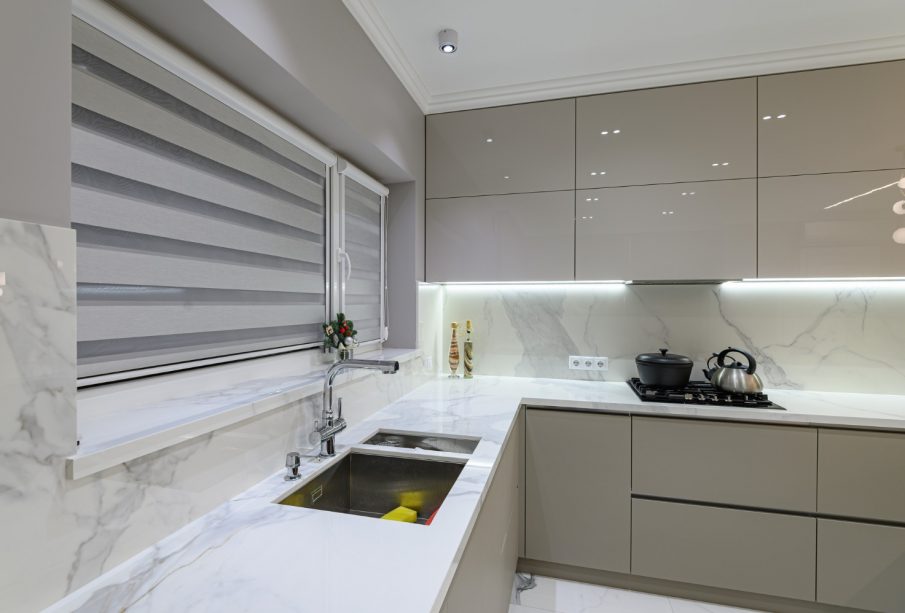 Gray is a popular shade this season. We like to paint not only living rooms, bedrooms and our rooms with it, but also the kitchen. You have no idea how to give life to a gray kitchen? We suggest!
The trend of arranging home interiors in gray tones is very strong and hasn't gone off the pedestal for several years. It's not just about the color of the walls, but also the colors of kitchen furniture and accessories. Although the shade is one, it really gives a lot of arrangement and decorating possibilities.
Colors matter – gray adds class and timeless elegance to the interior
Kitchen is definitely one of those rooms at home where we spend most of our time. It is not only a place for preparing and eating meals, but also the center of social gatherings and family games – especially the youngest members of the household love putting board games on the kitchen table.
So it's not surprising that we want the kitchen decor to be pleasant and encouraging to spend time there. Fashionable, functional and still popular is the shade of gray. When we just decorate the kitchen corner or decide to renovate, we like to reach for gray paint first, to give the walls its color. But light gray walls go well with furniture of the same shade or a slightly darker color. How to combine greys so that the kitchen gains character and depth rather than merging into one homogenous whole?
Grey kitchen with wooden elements
Wood plus greys is definitely one of the trendiest combinations in interior design at the moment and has a positive influence on our mood. Although for some people gray may be associated with cold, if we choose the right shade and skillfully combine accessories, we can certainly create a very cozy atmosphere in our kitchen.
Grey walls (light in tone) and grey furniture (one or two degrees darker) go well together. And wooden accessories, such as a table or finishing of table tops look very well with these grays.
>> See also: 7 wall color combinations that will inspire you
Grey kitchen in loft style
Loft style, or industrial style, is characterized primarily by functionality and appropriately large space to manage. Young people, who want to use the space in the room in an original way, are the most eager to arrange their interiors in it.
In lofts, walls are often made of brick. Effectively look those made of gray: you do not need to paint them, because in its natural form interestingly composed with all kinds of furniture. Although they look best with gray cabinets and, for example, black table tops. Accessories, such as chairs and trims in the form of slats, can be in shades of white.
White kitchen countertops and gray wall behind them
Another interesting idea to use a touch of gray in the kitchen is to subtly combine this color with classic white and wood elements. Moreover, wooden motifs can be boldly combined with red accents, for example in the form of decorative cables by decorative kitchen lamps. White kitchen furniture with wooden tops look great against a gray wall.
With a touch of modernity – practical matt grey kitchen
A very important issue is the finish of the kitchen fronts, because then we can talk about completing the renovation or redecorating our kitchen space. When we decide on grey cabinets, we also need to decide in advance whether we want them glossy or completely matt
We suggest that matte is more elegant and such finishing of fronts are very popular lately. What's more, matte surfaces are also much easier to clean than those glossy. Matte, toned fronts in a shade of gray can also be an interesting contrast for slightly stronger elements. We can bet on countertops in some darker shade or even a color extremely different from gray.