You need about 3 min. to read this article.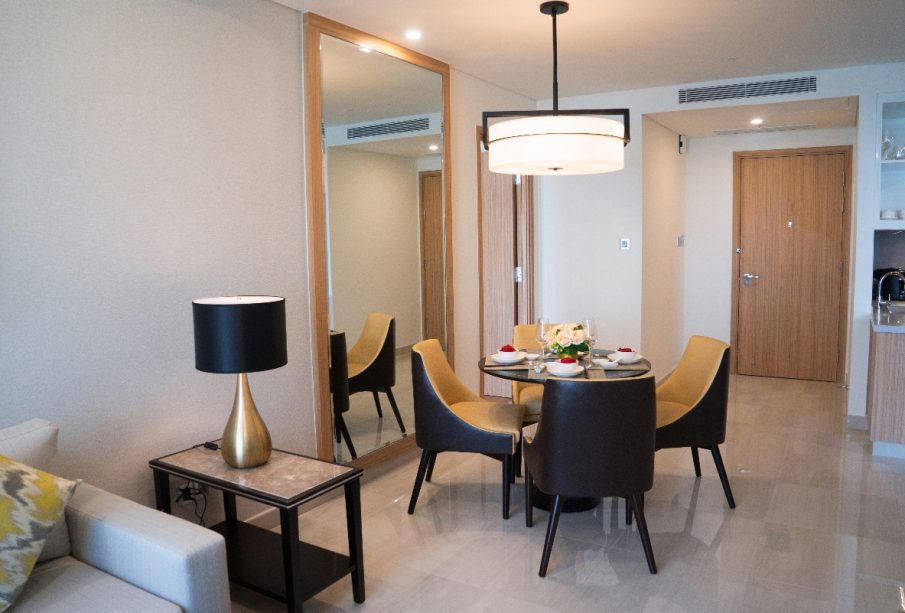 Looking for a new solution to furnish your studio apartment? Do you want to introduce glamour style into it? Check how to decorate it!
Are you dreaming of a bit of luxury in your apartment? For years glamour style is considered to be one of the most popular and desired trends in interior design. The shimmering accessories make a room look classy and glamorous.
Glamour interior design in a studio apartment
An apartment in glamour style cannot lack glitter and light accessories. Such rooms should be filled with quilted, upholstered armchairs, beds and mirrors, glass and crystals. Gold and silver accessories will add chic and elegance to the room. When decorating such a studio, do not forget to add white or pink flowers, crystal chandeliers, or satin pillows. Do not limit yourself in such a room!
Apartment in glamour style – what kind of paint and floors to choose?
Special attention should be paid to wall color. In glamour interiors, it is worth betting on bright, natural colors – the most frequently chosen are shades of white, beige and ivory. However, painting possibilities do not end here. It is worth to break bright colors with accents of gold, silver, or purple. On the walls in the room you can make paintings, and in the bathroom or kitchen add shiny tiles with a marble pattern. Such wall finishes will go well with stucco and masses of decorations.
Combination of Baroque and Classic
The charm of glamour lies in the combination of two styles – baroque and classical. Classical furniture and baroque accents add luxury to the room. Soft armchairs and upholstered sofas catch the eye and ornamented table legs, headrests and porcelain vases with flowers give the interiors a unique atmosphere. Remember that in addition to accessories, well-chosen colors play a huge role in interior design. Shiny ornaments will be best matched with neutral colors, such as white, black, grey or pastels. Decorating a studio in this style, you can go wild and complement the interior with wallpapers with baroque ornaments. Thanks to wallpaper with crowns and sculptures your apartment will be a representation of courtly elegance
>> 10 ideas for the kitchen in glamour style
Additions to the apartment in the style of glamour
When you know what color you should paint your walls and what accessories you can combine with each other, remember about a few more necessary elements. In a glamour style studio, smooth textiles, such as silk or satin, will work great and will add elegance to the room. Speaking of glamour, do not forget about large mirrors that optically enlarge the interior, a large number of lamps and lanterns in gold or black and gold sconces. Such an interior should also include nickel-plated wall clocks, decorative flower pots, vases and gold and silver decorations on the wall . It is also worth stocking up on porcelain and small metal bowls